What we do ... Installations
* SURVEY *
* REVIEW LOCATION EQUIPMENT OPTIONS * 
* PREPARE *
* INSTALL * 
* fine tune *


Motorised (or fixed & multisat) satellite systems can be as discrete as a....
 Sky dish or slightly larger, large or very large.

Most satellites & channels can be received with the smallest dish and only certain satellites really need large dishes nowadays with more efficient LNBs & more sensitive receivers & a professional installation with well chosen relaibale equipment throughout. 
Unfortunately, most of the most popular free channels are on weaker satellites such as 26e/7w & 16e- requiring a larger dish such as an 80cm or 90cm or 1m/ 1.1m for most of England & Wales with the smaller the further south & larger the further north. A MINI motorised dish requires smaller motor / brackets and so on & a larger dish requires a better motor & brackets. We install to planning guidelines that allow you to have a 1m '&' 60cm dish on your property but they are installed with aesthetics in mind.

We supply* either quality brand 'Raven'/ Invacom or Channel Master Sky approved dishes (45 or 64cm) or Triax / Orbital or ASC Channel Madster/ Andrews & Prodelin dishes (all good brands) and Inverto & Invacom LNBs (the No.1# DTH LNB in Europe at the moment).
We supply our own brace welded brackets & solid thick steel or high tensile 'alloy' poles.
Plus the industry No. 1# CAI approved Webro WF100 cosax or Triax TX100/ TX125 all copper coax & SAC/ CABLECON self seal F connectors.

We are routinely called out to put customer's or other installer's jobs right where poor equipment & installation techniques have meant that we could show better results from a motorised Sky dish than a poorly installed cheap 1m dish install. 

All these products have been very carefully selected for their overall quality for cost level by our experienced staff - choosing poor performing equipment can cost more & drastically alter the performance and durability of a motorised system.


So>>>  the first decision. DISH SIZE?

from small ..45cm 64cm ... to .. medium ..70cm 80cm 90cm 1m 1.1m.... to.. LARGE 1.2m 1.8m 2.4m 3m. 3.2m 
_____________

CHOOSING THE RECEIVER

It's important to choose the right receiver. 


Our number one top selling receiver is the top selling Technomate TM5402HD Ci Super pre-programmed ready with over 40 satellites & up to 10,000 channels [already in best order] with multiple favourites pre programmed for UK channels/ Free Movie Channels/ Football/ All Sports/ Motor Sport/ Music/ Childrens & teens TV/ General English/ News & Business/ Adult/ Special Interests.
One the easiest yet most powerfull receivers on the market but with a great price- records 3 channels while watching another on one tp, one of the most sensitive tuners.. makes any dish act as though it is bigger than it is, slick, fast & easy control anyone can use & edit channels etc.. & saved to USB in seconds, excellent card & multi-cam compatability for most cards, Ethernet & 3rd party software for hobbyests.    

We can supply &/or install for most brands of receiver.... 


SURVEY

At the same time we survey the location for the best place to install the motorised dish. The survey is very important to get the best position to get all or the most of the wanted satellites and taking into account aesthetics, building type, local obstructions to view (trees/ buildings etc..) and calculations for exposure to wind etc.. and position the dish in the best location aesthetics wise but retaining all the wanted satellites, this can be on a wall, over a gutter, over a roof, on a chimney or ground mounted.

PLEASE NOTE: If our survey finds unsuitable or failing brickwork etc. our engineer will inform you and advise that it has to be remedied before installation. We supply a professional deep point or rebuild brick & mortar repair service - we do not advise a builder be employed that will shallow point over failing mortar without regard for structural integrity. Our work will usually add to the value of a property.

PREPERATION       +     INSTALLATION :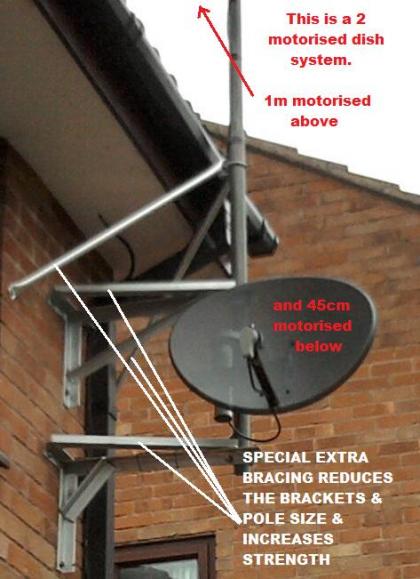 When the system is installed, most of the preparation & hard work & fine tuning is already done at our workhop so it is a quick installation with the minimum of disruption and you can start using the system straight away.

THE FINAL 'FINE TUNE' 


If you choose the most popular Technomate TM5402HD satellite receiver - we will pre-program it with up to 40+ satellites & up to 10000 channels free of charge.... On other satellite receivers we will endeavour to pre program all satellites & many channels but finishing off of channels will normally be done by the customer... otherwise we do have to charge for a full programming of customers' choice receiver as this can take time... , but the process is easy for a customer to do in their own time.

________________________

5 YEAR BRACKETS GUARANTEE

All our brackets are guranteed up to 5 years & up to 110mph with any dish size providing they are not altered from our original installation & survey specifitations**.

We supply a 12 month guarantee parts & labour gaurantee & up to 100mph** on Dish face, dish az/el brackets & feed arms, LNBs, cables, connectors, receivers & motors that all carry manufacturers 12 months guarantee.
Black Ultra LNBs carry an extended manufacturer's 5 year warrantee.

You are then free to enjoy a fantastic motorised dish entertainment system that provides up to 10000s* of channels, HD & 3D*, free premier movies, sport, music, culture, adult, documentaries, world & business news,  etc.. and the ability to explore the world and visit other countries from your armchair .... at the press of a button.

 PRIVACY POLICY

We do not share any of your information with other organisations & we do not run any mailing lists.

 
Contact purplesat.com for any queries regarding satellite or aerial & HD/3D installations.
TEL: 07931 846757
International TEL: 00 44 1625 615379 

** excludes BUDGET & USED PRODUCTS. * excludes extraordinary long strong wind periods reported by the UK Met Office.