To a lot of people noise/ interference is too boring a subject but to us it's
a very BIG part of our job installing Satellite Systems. Knowing how
 best to deal with interference/ noise is as important or more important 
than dish sizes- get the noise down & you've got the dish size down.

It's a busy world out there for any RF engineers.

WELCOME TO OUR WORLD.





CONTENTS 
SATELLITE INTERFERENCE GRAPH L C KU KA
SATELLITE ALL BAND SPECTRUM & L BAND USE
 
SOURCES OF INTERFERENCE
 
SPECTRUM ANALYSER OF INTERFERENCE NEAR PHONE MASTS / BUCS
UK RF SPECTRUM USE NEAR SATELLITE
MORE DETAILED INFORMATION ON NOISE
UK FREQUENCY MAPS V SATELLITE USE
PURPLESAT EXTERNAL REFERENCES FOR INTERFERENCE ON SATELLITE
TECHNIQUES TO HELP DEAL WITH INTERFERENCE
ELECTRICAL FAULTS THAT CAN EFFECT SATELLITE SYSTEMS
 


SATELLITE INTERFERENCE OF KU C KA L BAND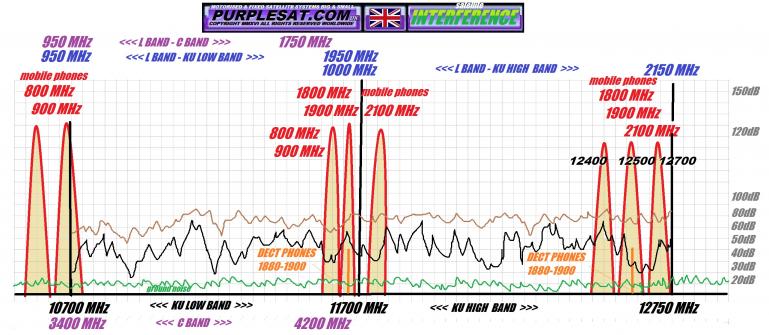 SATELLITE INTERFERENCE DIAG KU C KA L BAND
(The large peaks top & bottom of high & low band are an extreme example of being close to
mobile phone masts bleeding over the IF / L band (eg 800MHz 900MHz 1800MHz 1900MHz 
2100MHz) plus their microwave links, but it can be much noisier than that & you need to know
how to deal with it)

INTERFERENCE FROM MOBILE PHONE MASTS/ DECT PHONES/ MICROWAVE 
RELAYS- BACKHAUL POINT TO POINT / OH TELEPHONE CABLES/ ELECTRICITY
PYLONS OH CABLES / AIRPORTS / INDUSTRIAL AREAS / 

INTERFERENCE / NOISE & ELECTRICAL LEAKAGE is a BIG subject - there may be 
some 3rd party data that is not checked yet - this page is NOT live if you have stumbled
on it- purplesat does not warrant any information - although interference/ electrical 
leakage problems are in many ways a true mystery with infinite harmonics & interactions.
This is to help remove some mysteries. 

Interference is a bane & a big subject today & a growing one with the increase of wireless
use/ WIFI networks/ mobile phone (cell phone) network & coverage, increases in electrical
devices in the typical home, business or on the road.

Dealing with & conquering NOISE / INTERFERENCE & ELECTRICAL LEAKAGE faults is as
important or in many cases, more important than dish size & signal acquisition. Interference
can ruin a good installation causing good signals to break up or drop below break up level.
BACK TO TOP OF PAGE



SATELLITE SPECTRUM BANDS & IF L BAND USE

LNB TYPE                                   INPUT FREQUENCY                           IF                L.O. FREQUENCY 
====================================================================
Ku band Universal Low Band   .. 10700 MHz - 11700 MHz                950-1950MHz            9750MHz
Ku Band Universal High Band ... 11750 MHz - 12750 MHz               1100-2150MHz         10600MHz

Ku Band Wideband LNBs ...........10700 MHz - 12750 MHz              10700-12750MHz      10400MHz
UNITRON WIDEBAND LNBs 
kU SKY Q.................................

SRC/ Unicable ..........................10700 MHz - 12750 MHz                      subject to tps being used

C Band standard ...................  3400 MHz -   4200 MHz                                                   5150MHz
C Band Extended ..................  -       MHz -   4800 MHz

Ka Band

Ka Band uses theoretically ........ 12750 MHz - 40,000 MHz

Intermediate satellite frequency [if]                                                LO
====================================================
L Band (IF) ku low band...H/V...  950 MHz - 1950 MHz                 9750 MHz
L Band (IF) Ku High Band.H/V... 1100 MHz- 2150 MHz                10600 MHz

L Band (IF) Ku Wideband H/V ....290-300 MHz - 2340-2350 MHz           10400 10401 MHz

There are other non Universal Ku band lnbs with different LOs in use, mainly broadcast VSAT use.


L Band (IF) C band ......    950 MHz - 1750 MHz
L Band (IF) Ext C Band . 1950 MHz - 2150 MHz

L Band (IF) Ka band ...... 950 MHz -  2150 MHz

The polarization of the suspected interference can also makes a difference - vertical interference will cause more interference on a vertical antennae & interference on a horizontally polarized antenna will be picked up more on horizontal antennae but at L band that is less of an issue as it's more about the circuits / tuners & cabling, however, don't discount a Ku Band antenna in a Ku waveguide as stopping the much wider L band entering the waveguide completely & being picked up on the antenna or bypassing it entirely  & entering the LNB & dancing over the lnb's circuits- waveguides, cables / tuners etc.. An antenna/ wavewguide only attenuates a %, if the power from say a nearby mobile phone mast is very powerful- it can enter a smaller waveguide or just swamp the area, even professional satellite meters.

Almost all frequencies can cause interference/ noise / second/ 3rd harmonics etc. landing on cables/ components & causing adverse effects such as mal effecting a Local Oscillator etc.. but are not on any direct or secondary frequencies, although harmonics from them could be.


MORE INGFORMATION ON OUR MAIN SITE HERE