ASTRA 2E-2F-2G DISH SIZES & RECEPTION REPORTS.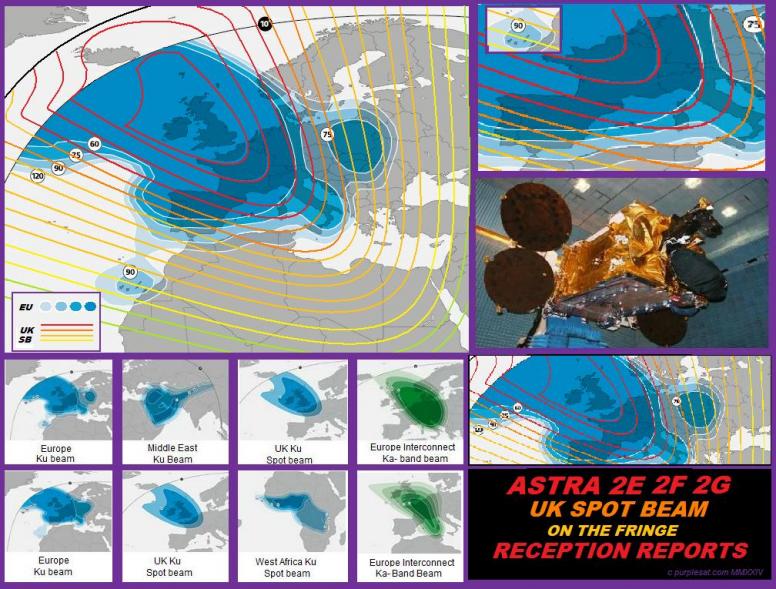 [ASTRA 2E-F RECEPTION REPORTS]

THE SMALLEST & ESTIMATED MEDIUM-MAXIMUM  
DISH SIZES FOR ASTRA 2E-2F-2G
Astra 2E, 2F & 2G are new tighter UK beams SES satellites at the 28.2/5e location serving mostly the UK TV. 
The main issue with these is they have been designed to be tighter beams on the UK to try to limit reception of BBC / ITV etc. & the UK Freesat channels outside the UK due broadcaster rights issues plus the BBC is funded by British TV Licence payers. Engineering wise, it's actually technically very difficult to restrict radio frequency transmissions to a small area & some bleed over is to be expected, even with the new improved satellites, that's where using bigger dishes means you can still receive the transmissions if say you are a Brit living in Spain.
So this info gives a map of dish sizes around Europe & North Africa. All are subject to local conditions/ hot spots,  black spots, local interference / weather & daily & one off solar effects etc..
SOME OF THESE ESTIMATES MAY WORSEN WITH THE INCREASING USE OF DVB-S2/8PSK & LOWER ERROR CORRECTION WHICH SAVES BANDWIDTH BUT THIS CAN ALSO MAKE IT HARDER TO RECEIVE OUTSIDE THE FOOTPRINT.

FRANCE  45CM- 90CM   64CM - 1.3M 

NORTH....... 45CM - 64CM
MID .... 64CM - 80CM
SOUTH ...... 80CM- 90CM

CORSICA NORTH..... CORSICA SOUTH.....
1.2M - 1.8M EST'

MONACO  90CM   1.1M - 1.2M 

.... 90CM

SPAIN  80CM - 1.3M   1.2M - 2.4M NS 

NORTH WEST......80CM. NORTH EAST.... 1.5m... NORTH CENTRAL....85CM ... 
CENTRAL EAST.......90CM  CENTRAL WEST .......90CM CENTRAL [MADRID] ...... 95CM
SOUTH EAST....... 1.3 SOUTH WEST....... 1.3M SOUTH CENTRAL.......1.3M
GIB ... 1.3M 

BALEARICS 1.1M - 1.3M   1.2M - 1.8M 
MAJORCA........MINORCA.......IBIZA........
1.1M - 1.3M

CANARIES 1.8M - 2.4M   2M - 3.6M 
TENERIFE......GRAN CANARIA......LANZAROTE......
FUERTEVENTURA......LA PALMA.......
1.8M - 2.4M

PORTUGAL 90CM - 1.5M  1.1M - 2M NS 

NORTH .......90CM  CENTRAL...... tba SOUTH ....... 1.5M 
90CM - 1.5M

GERMANY 80CM - 1.5M   1.1M - 2M NS 

NORTH WEST....... 80CM NORTH EAST.......1.1M NORTH CENTRAL.......1M 
CENTRAL EAST.......80CM  CENTRAL....... 1.2M CENTRAL WEST.......1.3M 
SOUTH EAST.......1.5M SOUTH WEST.......1.1M SOUTH CENTRAL.......1.3M 
80CM-1.5M

 SCANDANAVIA / NORDIC 1M- 3M  1.1M - 4M NS 

NORWAY NORTH.......NSR NORWAY SOUTH...... 1M
SWEDEN NORTH....... NSR SWEDEN SOUTH.......1M 
DENMARK NORTH.......1.1M DENMARK SOUTH.......80CM
FINLAND ..... 2.4M 
90CM - 2.4M  NSR

ICELAND  SOUTH EAST....... ICELAND NORTH WEST.......
80CM- 1.2M

GREENLAND SOUTH EAST [COAST] ...... 
1m -1.8m HORIZON LIMIT

BENELUX 64CM - 1M  80CM 1.2M 

BELGIUM ....... NETHERLANDS....... LUXEMBOURG ............
64cm - 1m

SWITZERLAND 80CM - 1.2M  1.1M - 1.5M 

....80cm- 1.2M

ITALY  1M - 1.2M   1.3M - 1.8M NSR 

NORTH ....... CENTRAL....... SOUTH ....... 
SARDINIA ...... SICILY .......
2.4M - 4M NSR

MALTA 1.5M  1.8M NSR 

...... 1.5M 

AUSTRIA 1M - 3M   1.2M - 4M+ NSR 

WEST 1M
MID 1.5M 
EAST 3M

GREECE 1.1M - 3M   1.5M - 4M+ NSR 

NORTH WEST....... NORTH EAST.......
CENTRAL EAST....... CENTRAL WEST....... 
SOUTH EAST....... SOUTH WEST.......  
1.1M - 2.4M

CRETE 1.1M -1.8M   1.5M - 2.4M 

CYPRUS 2.4M -4M+  3M - 5M+ NSR 

...... 2.4M -4M  EST'. NSR

TURKEY 2.4M-4M+  3M- 5M+  NSR 

2.4M - 4M EST'.. NSR

POLAND 1.2M - 2.4M   1.8M - 3.4M NSR 

NORTH WEST....... NORTH EAST....... NORTH CENTRAL....... 
CENTRAL EAST....... CENTRAL WEST....... CENTRAL....... 
SOUTH EAST....... SOUTH WEST....... SOUTH CENTRAL....... 
1.2M - 2.4M EST'

N EASTERN/ BALTIC 1.1M - 3M   1.5M - 4M+ NSR 

BELARUS ..... UKRAINE ..... LATVIA .... 
LITHUANIA ..... ESTONIA.....
1.1M - 2.4M -3M EST'.. NSR

EASTERN 1.2M - 3.4M   1.5M - 4M+ NSR 

HUNGARY ...... ROMANIA .....BULGARIA..... 
CZECH REPUBLIC ...... CROATIA..... SLOVAKIA..... 
SLOVENIA..... SERBIA ...... ALBANIA..... BOSNIA ..... 
MONTENEGRO.... MACEDONIA ......
1.2M- 3.4M EST'.. NSR

 NORTH AFRICA 2.4M - 4M   3M - 5M+ NSR 

MOROCCO .... ALGERIA.... TUNISIA ... LIBYA ... 
EGYPT .....  EASTERN MEDITORRANIAN....  ISRAEL .... 
LEBANON... JORDAN ..... SYRIA .... 
2.4M - 4M 5M+ EST'.. NSR

OTHER MENA.... 

OTHER...... 

THESE ARE GENERAL GUIDE SIZES ONLY BASED ON MINIMUM MID TO MAX DISH SIZES & SUBJECT TO REVISION. 
ASTRA 2E, 2F  & 2G  CARRY THE CHANNELS IN QUESTION & CAN HAVE SLIGHTLY DIFFERING SIGNAL LEVELS AS CAN EACH INDIVIDUAL TRANSPONDER PLUS THERE ARE DIFFERING BREAK UP LEVELS ON DVB-S/QPSK - DVB-S2/ 8PSK DVB-S/8PSK DVB-S2/QPSK & HIGHER OR LOWER FECs COMPARED TO SAY DVB-S & FEC 3/4 AS AN OLDER BENCHMARK.
THESE ARE NOT PURPLESAT 'ON LOCATION' MEASURES BASED ON IDENTICAL BENCHMARK INSTALLATIONS 
BUT COMPILED FROM INDEPENDENT REPORTS AROUND THE FRINGE RECEPTION AREA & AS WITH ALL THINGS RF RELATED- ALL ARE SUBJECT TO:

LOCALISED VARIATIONS IN INSTALLATION QUALITY* 
(*DISH MAKE & CONDITION- LNB- TUNER CHARACTERISTICS- ALIGNMENT - CABLE & CONNECTORS ETC.)

PLUS

VARYING LOCAL NOISE- INTERFERENCE ISSUES 

PLUS 

FRINGE SIGNAL HOT SPOT / DEAD SPOT VARIATIONS ON THE FRINGE

PLUS

VARIATIONS IN WEATHER CONDITIONS [AT THE UP LINK/S] 
AS WELL AS AT THE RECEPTION LOCATION & SIGNAL CYCLES.

ALL THESE CHARACTERISTICS CAN ALTER OVER A RELATIVELY SMALL AREA, 
PARTICULARLY WHEN DEALING WITH UNINTENDED OVERSPILL FRINGE SIGNALS, 
THEY ARE NOT REGULAR & DO NOT NORMALLY SHOW REGULAR SIGNAL DROP FROM THE MAIN INTENDED FOOTPRINT AREA AND THERE ARE THE EXPECTED HOT SPOTS/ DEAD SPOTS IN SOME AREAS.
NSR - NO SIGNAL REPORTED [REPORTS OF NO SIGNAL] BUT THIS DOESN'T MEAN IT'S AN END GAME SITUATION
SOME 'NO SIGNAL REPORTS' HAVE ALREADY BEEN IDENTIFIED AS BEING CAUSED BY 'OTHER' REASONS.

 RECEPTION REPORTS ARE ONGOING & THIS WILL BE UPDATED WHEN WE HAVE ENOUGH RELIABLE DATA. 
Reports can vary due to different quality of installations / dish quality & perceived size, local interference issues & signal hot spots & cold spots so it takes longer to do a more reliable map of a reasonably standardised quality of install.

Reports of the signal power on Astra 2E increasing & many ex-pats that lost their BBC & ITV channels reporting they have returned albeit with slightly less power may be to alterations to the beam power by engineers or due to better weather conditions in the UK where the uplink for 2E (& sky etc.) has improved.

ALTERNATIVES TO ASTRA 28e RECEPTION.
We are also compiling alternative TV channels & satellites for outside UK reception of English tv & sports including using a motorised satellite systemif Astra 2E-F proves too impractical, for now see HERE - 
up to & over 1200 free channels in English pluds 1000s more on subscription with original English soundtracks retained.

 DAILY SIGNAL UP & DOWN CYCLES REVERSED FROM 2D DAYS?
It may be that the old ASTRA 2D pattern of daily signal ups & downs reducing in the evening has somewhat reversed with the signals now increasing into the evening & early morning & reducing in the day time (similar to Nilesat @ 7w reception in the UK). 
This may actually be down to the Gregorian design of the ASTRA 2E reflectors compared to ASTRA 2D's single reflectror design & it's now the secondary reflector on ASTRA 2E'S tight UK beam that is most effected by the solar stream's path over the Clarke Belt as the secondary smaller reflector is facing the opposite way (similar to 7w MENA reflectors) thus the cycle reversal. 

This is an interesting subject & there are many other factors that can cause daily signal up & down cycles & iratic (non daily) signal ups & downs.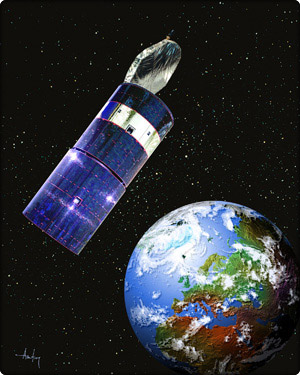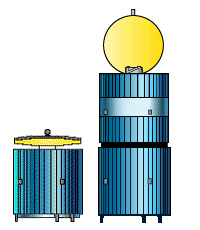 THE OLD (very old looking) ASTRA 2D SINGLE REFLECTOR* DESIGN of c. 2000.  
(*ie, 'not' Gregorian - not the fact that there is a single main reflector compared to 2E having several)




THE NEW ASTRA 2E c. 2013 2nd reflector [Gregorian] design with it's 4 main ref;ectors)



ASTRA 2E 2F 2G's 4 BEAM'S FOOTPRINTS -3 KU Linear & 1 KA Circular.
 
Note the smaller secondary reflectors [covered in gold foil] facing the main reflectors & the small lnb shaped tx in front of the secondary reflectors. 

SOLAR STREAM CYCLES 'ON' THE SATELLITE
When a reflector has the most solar stream impacting on it or the 2nd reflector or tx (most shielded) the signal goes down & noise goes up & when the reflector is least exposed to the solar stream when it's behind the reflector/ the body of the satellite / the ionosphere & the Earth, the signal goes up.

 With the second reflector Gregorian design you can see how this can then confuse the previously easy to predict solar stream's effect on the location & aim of a single reflector like Astra 2D. The main reflectors are also not regular parabolas in design but a detailed & mapped out reflector surface design (see ASTRA 2E photo) - this too may make the main reflectors less susceptible to reflecting the solar stream's interference, the smaller secondary reflectors are more sheltered but are regular & would invert the effect - that is the signal goes up at night not down at night etc/ etc.

Knowing that the ASTRA 2E's signal on the fringe has a daily cycle doesn't help too much with reception except when aligning a dish, the time of the day should be taken into account as to what maximum signals are available & in extreme cases as there seems to be many of, not trying to align a dish in a dead period. 

More localised noise issue such as local industrial or residential born noise that also can have a daily cycle aspect can be dealt though with many specialist techniques.