F.A.Q. ABOUT SATELLITE TV * THE BASICS  

 Frequently Asked Questions About Satellite TV  


* WHAT IS ALL THE FUSS ABOUT
MOTORISED SATELLITE TV ?*

*CAN I RECIEVE FREE MOVIES, SPORT DOCU's etc 
WITH A MOTORISED SATELLITE SYSTEM? 
[YES]*

* IS THERE AN EPG INCLUDING 7 DAY
ON MOTORISED SYSTEMS? 
[YES]*  

*CAN I RECORD SATELLITE & IPTV CHANNELS*
*MULTI RECORD * PAUSE & REWIND LIVE TV 
AND KEEP & PLAY MY RECORDINGS ON OTHER DEVICES
& SET RECORDINGS OFF THE EPG
ON MOTORISED SATELLITE TV? 
[YES]* 

*WHAT MULTIROOM OPTIONS ARE THERE 
ON MOTORISED SATELLITE TV?*  

WHAT DISH SIZE OPTIONS ARE THERE? 

DO I NEED PLANNING PERMISSION? 
[NO]

*WHAT IS FREESAT* FTA* FTV* SKY* FSFS ?* 

THERE'S MORE INFORMATION ON THE TM5402HD HIDDEN MENUS PAGE 





What is all the fuss about
Motorised Satellite systems?

Motorised satellite systems allow you automatic access up to 40-50 satellites in space with up to 10-15,000 channels 24hr high quality FREE movie channels in English, FREE sports including some live EPL - 3PMs etc/ Documentaries / Music/ Adult/ Culture/ World business & News channels/ World Wide channels/ Sports feeds etc.

Motorised satellite systems allow far more autonomy & access to better quality.
The systems we install can be easier to use with great easy to use software & completely customizable channel lists & lots of favourites for all the family & all tastes with sections for 
* MOVIES * SPORTS * FOOTBALL * KIDS TV * MUSIC * DOCUMENTARIES * FAMILY VIEWING * NEWS & BUSINESS * ADULT * SHOPPING * RELIGEON * ASIAN * AFRO * REGIONAL * SPANISH * FRENCH etc.. .




BACK TO TOP 




Can I use EPG (Electronic Program Guide) on a Motorised System.
Yes
if 7 DAY EPG with synopsis is available for the UK & variously on other satellite channels.
The EPG [up to 7 days] allows setting recordings/ repeat daily, Mon~Fri, weekly as well as veiwing what's on & program synopsis.
For example the popular FREE MOVIE channels on Arabsat below.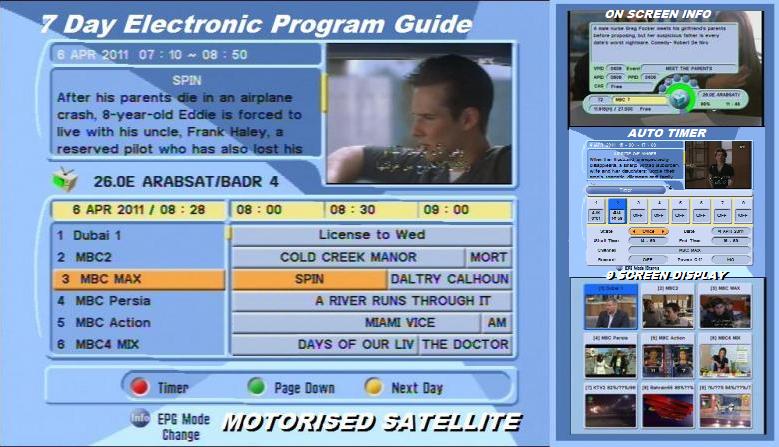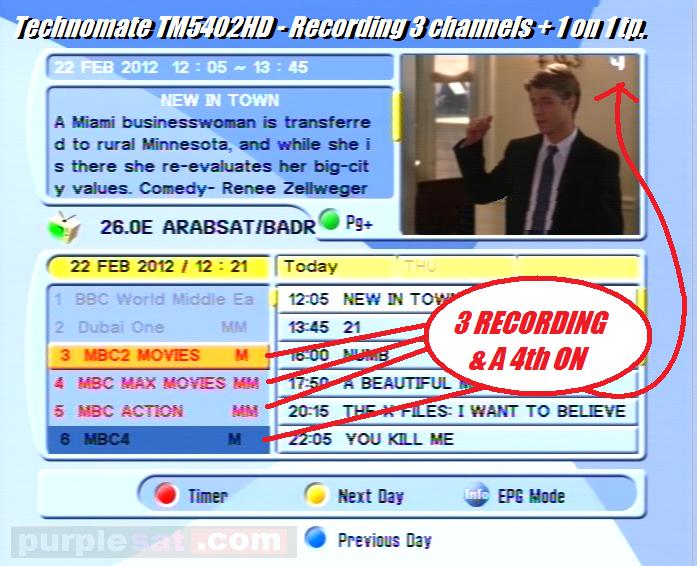 You can also have an information panel about the program you are watching 
and a snap shot of up to 9 screens of the channels on screen.

BACK TO TOP 





Do I need a BIG dish for motorised satellite?
NO

80-90% of satellite channels receivable in the UK can be received on a small dish.

A larger dish is for a small number of weak satellites but many of these can have a large number of free Movie & better free Sports channels etc... such as 7w-7.3w 8w 4w & 26e which usually need an 80cm dish or larger depending on location in the UK & local interference levels.
The most popular dishes we fit are from descrete 45-50cm & 64cm motorised Sky mini dishes & medium sized dishes of 80cm/ 90cm/ 1m & 1.1m. 
Larger dishes (1.2m 1.4m 1.5m 1.8m 2m 2.4m 3m 3.2m 3.4m 4m 5m) are supplied for more specialist use, commercial use, the high end enthusiast market & pub football.

Do I need planning permission 
NO
I most cases you do not, most properties are allowed a 1m & 60cm dish without any requirement to apply for any permission. Dishes should be sited in an aethetically pleasing manor as a routine. 



​

BACK TO TOP 




Can I receive FREE MOVIES in English?

YES
 with the right dish size for your area you can now access over 3300 movies a week between 25-30 free top Movie channels broadcast in English - several routinely transmit movies between 2-12 months including ones that can still be in the cinema here, most others show box office quality movies between 12 months to about 6 years old - some older movies/ classics & many can be world premiers / 1st time on TV anywher in the world & some that are actually still in the cinemas here.



BACK TO TOP 



Can I receive FREE LIVE FOOTBALL & 3PMs? 

YES 
Some live English Premier League/ FA/ Champions league etc. etc.. matches including 3pm kick offs are transmitted FREE  or on open broadcast feeds you can pick up.most are subscription only so you will need access to a subscription but there are many providers now to choose from, having a dish pointed to another satellite or a motorised satellite dish means you can get a subscription from another TV company that can be a lot cheaper than a UK subscription.... 

(other methods such as card share &/or downloading the many patches & inputting key$ available to download on the internet to view encrypted channels is something as a company we don't get involved with & the decision of the customer if they choose to use our equipment like that as with anything else),

Google LJs 'football by satellite' etc.. to get an list of matches and who's showing what on what satellite and if it's free or encrypted.

Can I receive other Sports channels & racing channels.

YES
There are lots of free sports channels including various channels that show football from other leagues and all other sports- Live Boxing/ F1 race/ practice/ qualifying/ G2/ Motorsports/ Tennis/ Golf, Cricket, Tenis, Horse Racing - some that may be used in betting shops.

BACK TO TOP 

How many channels can I expect to receive
on a motorised satellite system?

As you go up in dish size (70cm, 80cm, 90cm, 1m, 1.1m), so the number of channels increase to up to about 10-15,000 max and more Free Movie channels start to be received at about 85cm. A larger dish also makes the channels more resistant to bad weather and some channels you shouldn't be able to receive can be received at certain times of the day- often in the evening such as the stronger channels on Nilesat @ 7w.

Is Motorised Satellite Easy To Use?

YES
A properly set up motorised can be easier to use for all the family than Sky/ Virgin Media / Freeview or Freesat because of the quick & easy to use control menus & the fact that channels can be put in your favourite order & not stuck jumping over lots of channels as in Sky etc.. plus the even easier to use & customise multiple Favourites & 3rd method of alphabetical & type listings - so there's an easy & quick way to do anything.
BACK TO TOP 




MULTI ROOM & 
Motorised Satellite Systems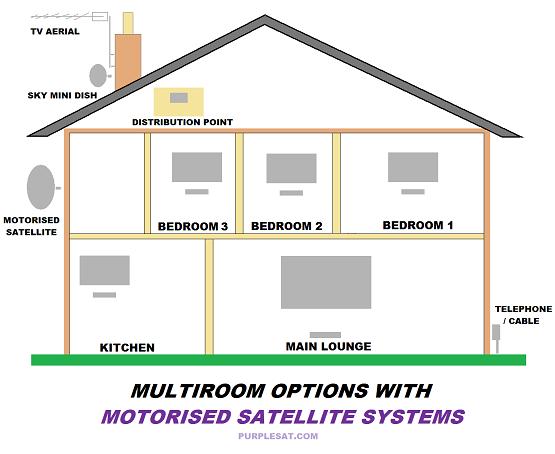 There are lots of options to create a multiroom system based on a motorised Satellite System.



Motorised Satellite in the Main Lounge.
[most popular]
The most popular is to install the Motorised Satellite System in the Main Lounge with other rooms using various other options such as Freeview from an aerial &/or Freesat from an existing Sky dish & various other net based access**. Even with this setup, recordings on inexpensive USB drives can exapnd the system to other rooms 
(** too much reliance net based IPTV etc. can quickly overload your internet).

Sending the picture
from the Motorised Satellite System
to other rooms.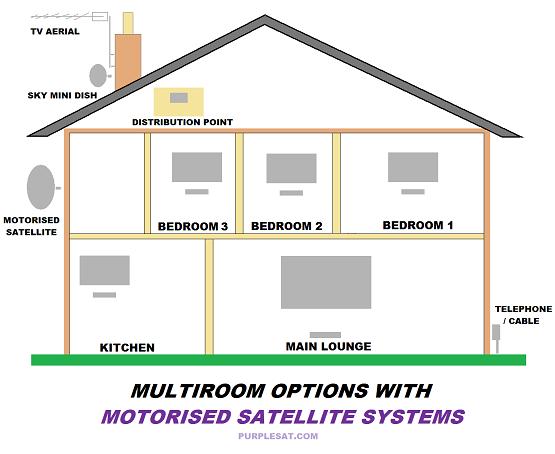 This is the next low cost option to expand the system to other rooms. Our systems come with quality modulators sending the picture to TV aerial coax compatable format that most TVs can receive.
This can be sent to a single 2nd room or several rooms or be distributed with Freeview to all rooms via an existing or new distribution amplifier.
Higher picture quality options are AV distribution oer HDMI distribution
& this shlould now include 4k compatability.



[REMOTE] Controlling Motorised from another room.
Once you've sent the picture to another or other rooms, remote control of a Motorised Satellite System from other rooms can be very easy indeed with products such as PowerMid IR RC senders & unlike sky magic eye systems, PowerMids also allow remote control of other equipment in the lounge from another room eg. the Master Bedroom.
There are several other Remote Sender options including adding to existing old Sky magic eye systems.



Motorised Satellite + 
adding channels using a Sky dish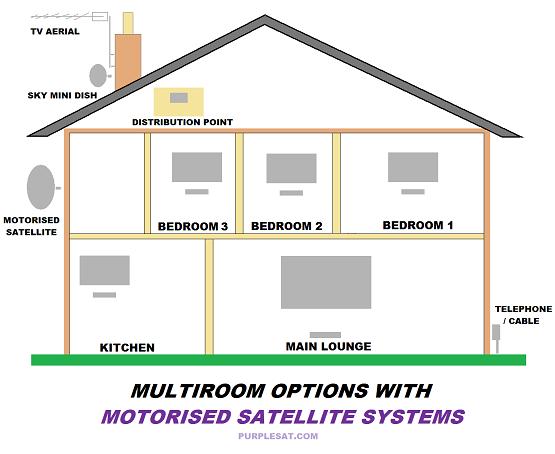 A very popular & cost effective multiroom option is to use an existing or new sky dish to feed all rooms with the 100s of UK satellite channels plus to send the picture from the motorised system to all rooms to allow greater autonomy around the property so the large number of available channels on the Sky dish can be viewed plus the motorised channel, with usually the motorised system installed in the main lounge. You can also extend this by adding remote control as above in another or other rooms to also control the motorised from say a bedroom, kitchen or den etc. 

Motorised Satellite Multiroom options- MORE RECEIVERS!
Added to the above you can have a 2nd, 3rd or 4th output from the motorised satellite system feeding a receiver allowing the other receiver/s to receive from the satellite the motorised is on.
You can also combine this with access to a sky dish 
so that satellite receivers in other rooms can access ALL the channels on the satellite the motorised satellite system on AND all the channels off the sky dish (automatically switches between the two).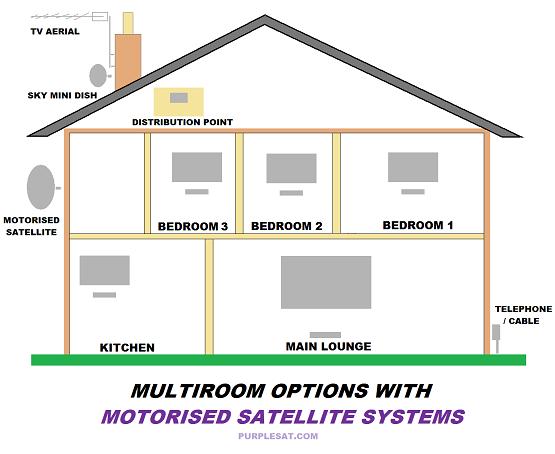 You can also use the 'loop through' feature on the receiver
to add Multiroom a different way.
This feature passes the signals from the 1st receiver to anpother receiver without an extra cable from the dish- this allows a 2nd receiver to receive all the channels on the [1/4] band on the satellite the main receiver is on.
(& multi record off that band too)
& if the 1st receiver is put in standby mode, the 2nd receiver then has complete control over the motorised system.

How many rooms can I supply with TV outlets.
There is no real limit on the number of rooms or outlets that can be supplied with TV from one to over 100,
but it's best in our experience, to sit down & carefully plan the best system for your needs & keep an eye on flexibility & changing technology.
If your plans are very extensive, it may be more important to include an extensive hidden trunking system where needs can be met in the future by easy re-cabling from a central point or riser rather than over specifying endless coax runs or CAT# HDMI cabling.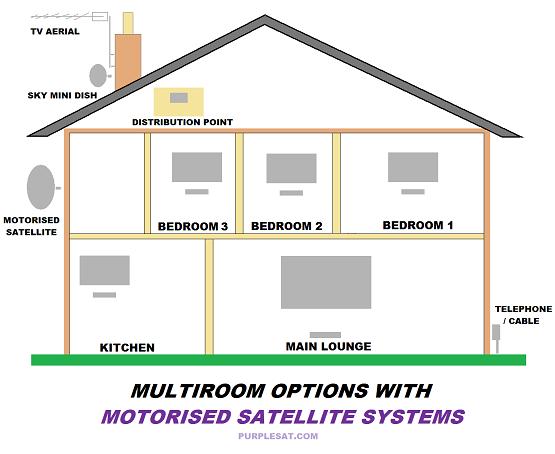 BACK TO TOP 

******************************







RECORDING.
Most receivers are supplied USB PVR ready meaning you can plug in an inexpensive USB flash drive [stick] &/or USB HDD such as a WD My Passport drive & record.
This also means you can take recordings to other devices such as TVs etc. & replay your recordings unlike internal fixed drives which are severly limited & in the case of Sky, your recording are blocked if you stop paying them.
You can record 2 or 3* channels at once & watch another channel at the same time in the same group or watch streams / Youtube videos or IPTV channels at the same time.
*depending on model. 
Recordings can be instant record or easily & quickly set on the program guide or manually input in the timer
& across any channels & satellites
& be single record or daily / Mon~Fri or weekly.

You can also pause live TV rewind FF & timeshift.
SEE THE >> TM5402 HIDDEN MENU << PAGE FOR MORE INFORMATION.
BACK TO TOP 






What is the differences between Freesat / Freeview / FTA / FTV or Freesat From Sky (FSFS)?

Freeview is 

the free digital TV service received through an aerial from the BBC/ITV etc that can receive up to 100 TV & radio channels and has a digital teletext information system (news weather sport etc..) most receivers have 7 day EPG/ multiscreen options for sports events etc.. and Timer / series time & record & HD options. 

Freesat is 

the satellite equivalent of Freeview, is received through a dish (usually a small Sky dish).
It can receive far more channels than Freeview (perhaps 3-400+ TV & radio today) plus the extra options listed for Freeview with better multiscreen services & special events support plus other channels can be accessed not on Freesat.



FreeSat from Sky (FSFS) 
is similar to Freesat except you have to use a Sky box that forces you to jump over 100s of blocked channels and is awkward to use compared to properly channel ordered Freesat or Freeview receivers. FFS can allow you access to a couple of extra channels with a non active Sky card inserted or that you have to pay for if you do not have an old one.
Some channels (about 16) received on Freeview cannot be received on Freesat/FSFS & visa versa.

FTA .. Free To Air 
is the name given for satellite receivers that can receive almost all available satellites including the satellite Freesat is actually on and can usually control switches & motors and receive different world bands such as C & KU band satellite signals- and allow ordering of channels exactly how the user wants them and multiple favourites etc...  These are used all over the UK, Europe & around the world to receive satellite TV. They usually have smaller EPG options than a Freesat receiver has if used on Freesat and do not allow all access to the teletext services on Freesat but are otherwise far more versatile while still being able to access the Freesat channels depending on what dish or motorised dish they are connected to. 


What is FTV ? 
FTV means Free To View and even though a few channels are transmitted free but FTV.. they still require a free card to be inserted in the receiver- this restricts their reception.