SATELLITE FEED HUNTING is popular for enthusiasts 
& those using acccess to outside broadcast feeds for commercial reasons.

Satellite feeds or Outside Broadcast Feeds are broadcasts typically from live sporting events, news gathering services, live concerts, studio to studio transmissions etc & there are potentially 1000s every week.

Have a look at Satelliweb, this reports live SATELLITE FEEDS daily/ hourly.
Each feed can be input into your satellite receiver on your motorised satellite systems to view the live feeds [if they are not encrypted or you have the means to view encrypted feeds] 
See also the TM5402HD HIDDEN MENUs PAGE & how to input feeds section

You can also scan in your own feeds using blind scanning satellites. it's just like scanning in channels on a TV that doesn't know whart channel are up there as they are made for many areas of the world, except you have access to lots of wprld satellites on a decent motorised satellite systems. 
There are certain well known satellites used more for satellite feeds & areas or sub bands on them.
You don't always need to scan the whole satellite depending on which satellite it is.

eg: 10e EUTELSAT 10A 

10700 -11700 
& 
12500 - 12750 

but not 

11700 - 12500

That 11700 - 12500 sub band is used on 9e & is so cloes that you will scan in unwanted duplicates from 9e to 10e's transponder & channel list plus. 
It's faster to just scan known broadcast feed frequency areas & sub bands rather than whole satellites.
Most satellites have historically used the 12500-12750 sub band for broadcast feeds & many commercial lnbs are available just for this short sub band, optimised for broadcast use, so it's often handy to just scan this section but there aren't such cast iron rules. 

Most Satellites we use are on a *Geo-stationary Orbit on the Clarke Belt 
[*Geo = World Stationary Orbit- = stationary/ fixed in the sky looking from/ in relation to the Earth]
and in a fixed recognised position eg 10e Eutelsat 10A. 

INCLINED ORBIT TACKING

Here is an example of an inclined orbit satellite often used for feeds.

An inclined orbit satellite on the Clarke Belt is a satellite that is still on the Clarke Belt but has become inclined to it, so it maintains it's correct longitude position, but moves up & down from our perspective.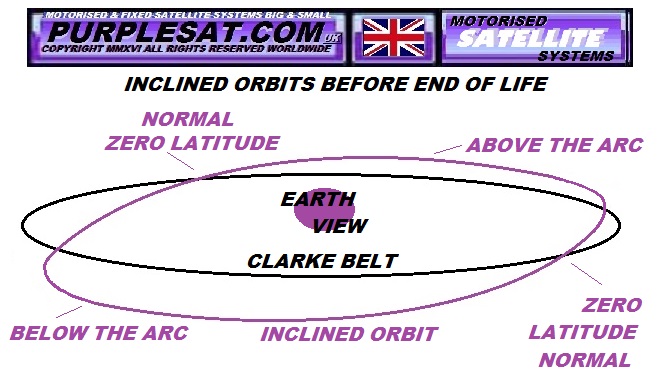 diag 1: Inclined Orbit Satellite on [off] the GSO.

Inclined Orbit Satellites are still on the Clarke Belt/ Geostationary Orbit [just], but they are typically faulty & drifting out of proper orbit, generally old &/or faulty &/or low on board fuel.

The satellite companies can keep these satellites going longer using less fuel & allowing them to drift out of normal orbit so they gradually become increasingly inclined [at an angle to the GSO] but still maintaining longitude [or they could crash into other satellites on the GSO if they were allowed to move sideways!]. 
So they are still on the GSO & maintained at the correct longitude, but because they are inclined, from our prospective on Earth, they move up & down on the Clarke Belt & so require inclined actuator motors to move the satellute dishes up & down to track them for both tx & rx.

Here is an example graph plot of an example inclined orbit satellite on the GSO.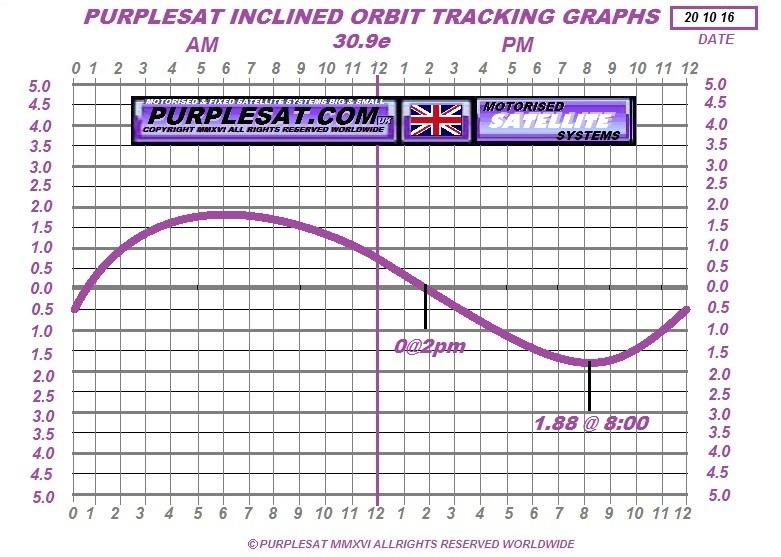 diag 2: Inclined Orbit 24hr snapshot graph.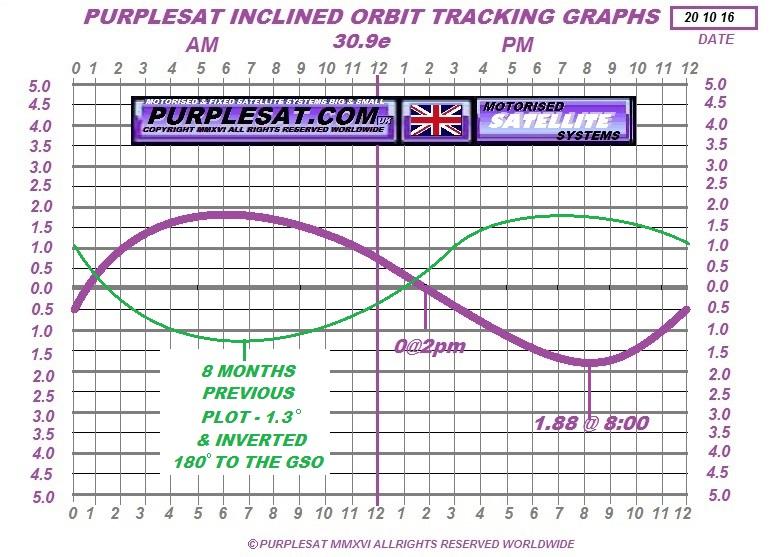 diag 3: Inclined Orbit Satellite 8 month change.

  This inclined orbit graph is just a snapshot in time- the graph will change over time, it is expected that the amount of inclination to the GSO will increase from the 1.88 degrees when this was taken by about 0.1 degrees a month  but no one knows, plus the lean can rotate round, so that the highest & lowest points move around the longitude they are at**, although the satellite's longitude will remain constant [in this example the aging satellite does fluctuate longitude a little more than regular satellite but as has been stated, rthey must keep it in check].

**This is like a spinning top that starts to lean and the lean turns round.

The satellite comapanies do this because it is the most cost effective way to use the remaining fuel AND keep the inclined satellite in service as long as possible at the end of it's life or if it had developed a fault, making revenue from broadcast to studio & studio to studio use only, as homes cannot be expected to go out & keep moving their dishes up & down. 
The Outside Broadcast Vans & Studios using these inclined orbit satellites do so usually with feeds that only require short bursts of tx rx but they can be used for longer broadcast feeds while they continue to track & are usually offered to broadcasters at much lower feed costs.

Eventually, the satellite company will run the fuel down to a point where there is only enough to safely de-orbit the satellite.

FOR SOME REAL USES SEE >>> SPORTS FEEDS  


Purplesat design & build inclined orbit tracking Motorised Satellite Systems, Twin Axis Motorised Satellite Systems allowing several bands & polarizations to be used AND inclined tracking 
plus offer bespoke modifications to existing motorised satellite systems 

CLICK HERE FOR INCLINED ORBIT & TWIN AXIS MOTORISED SATELLITE SYSTEMS
BIG DISH Satellite TV Installations.
UK, Europe, N Africa & Off Shore Satellite Installations.
VSAT, COMS Satellite installations.





BIG DISH INSTALLS FROM 1.2m 1.5m 1.8m 2.4m 3m ...3.7m 4m 5m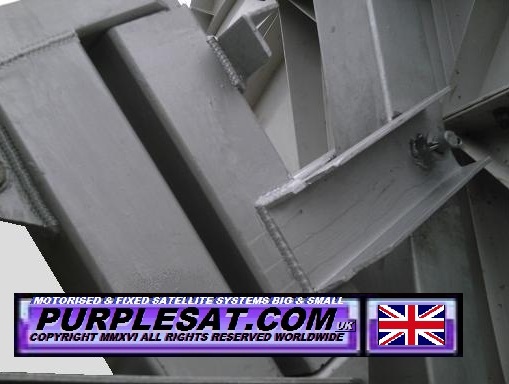 Custom Heavy Duty BIG ARC Polar Mounts: 
Complete custom build & modifying or repairs of existing Polar Mounts,
modifications from one dish manufacturer to another manufacturer's
dish face, arc extending, actuator gearing up or down,
 incline actuator modifications & design / fitting.

BIG ARC's on BIG DISHES up to 75e to 75w east & west of the
installation location, bespoke engineering to allow 
big dish weight low load handling on extremes.
Interference survey & shielding practices.
Bespoke feedhorn & waveguide & feed holder design & fabrication.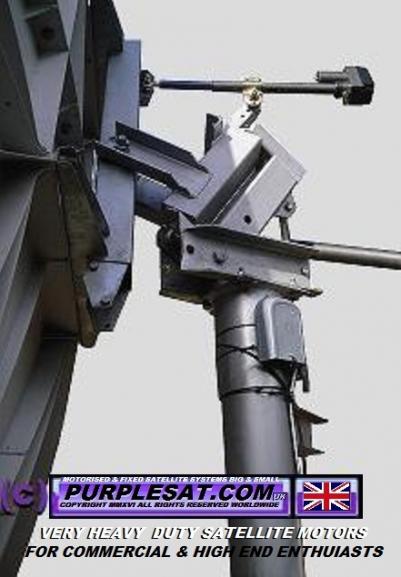 Twin axis polar mounts (azimuth & inclined orbit)* 
For inclined orbit satellites & multi LNB feed for KU Band
Linear- C Band Linear - C Band Circular- KU Band circular KA..  Rx & Tx.