Approved MOTORISED SATELLITE INSTALLERS around the UK
For an approved motorised installer around the UK please select the area 
for a motorised installer that consistently achieves a very high level of all the skills required.


E CHESHIRE
S MANCHESTER
N STAFFORDSHIRE
N DERBYSHIRE

N SHROPSHIRE
NORTH WALES

LIVERPOOL

N MANCHESTER
LANCASHIRE
YORKSHIRE

NORTH EAST

E/ W/ S MIDLANDS

KENT - ESSEX- SUSSEX
SE LONDON

CENTRAL & N LONDON

SOUTH WEST
S WALES

SCOTLAND

WARNING - WATCH THIS 1ST THESE >> ROUGE TRADERS 
GET PHOTOS OF WORK & 'REAL' TESTIMONIALS & DON'T JUST TRUST HEAVY BLITZ ADVERTISING
one person is paying for big advertising over reputation- YOU!


LARGE DISH INSTALLATIONS + 1.8m 2m 2.4m 2.5m 3m 3.2m 3.4m 3.6m 4m 5m+

ALL UK AREAS COVERED & SELECTED EUROPEAN COUNTRIES INCLUDING SPAIN, PORTUGAL, FRANCE & MOST WESTERN EUOROPEAN STATES.

We are always looking for motorised & big dish satellite installers.
TO APPLY YOU MUST  HAVE AT LEAST 3* YEARS EXPERIENCE (*or see below) ,

CONSISTENTLY DEMONSTATE A HIGH LEVEL OF ALL THE SKILLS REQUIRED FOR MOTORISED SATELLITE INSTALLTIONS INCLUDING .. 

INITIAL SURVEYING. 
Final predicted satellite arc view. Survey for optimum aesthetics & in accordance with national planning guidelines. Structural requirements for the motorised satellite system functionality at given wind speeds & directions & integrity of the substrate to be mounted on and choice of dish size suitability for motor choice, brackets, poles, and substrate. Survey of obstacles in the line of view & how best to deal with such issues. Surveying for local RF & EM interference & how best to effectively deal with extreme issues. Surveying for identifying electrical/ gas/ water & other services in walls for cable runs & hole drilling. Health and safety considerations at pre-install.

BUILDING & STEELWORK STRUCTURAL KNOWLEDGE & PLANNING LAW KNOWLEDGE

OPTIONAL GROUND MOUNT EXPERIENCE

USE OF SUITABLE INSTALLTION EQUIPMENT - ladders, scaffold, platforms, drills, cutting equipment, ropes, ties.

ABLE TO DEMONSTRATE A GOOD ABILITY IN CHOICE OF EQUIPMENT & INSPECTION BEFORE FITTING of DISH MAKE & SIZE, BRACKETS, CHOICE OF WALL FIXINGS, MOTOR, LNB, CABLE, 

THE INSTALLTION PROCESS ITSELF

HEALTH & SAFETY SKILLS WITH APPROVED LIABILITY INSURANCE- 

*WE CAN TRAIN CERTAIN SUITABLE APPLICANTS UP TO BE LISTED WITH US IF THEY REACH A CERTAIN STANDARD INITIALLY & IDEALLY HAVE AN ENGINEERING OR SIMILAR BACKGROUND OR WE MAY FULLY TRAIN AN OTHERWISE SUITABLE APPLICANT. IF WE SEE YOUR WORK ON OUR TRAVELS & ARE IMPRESSED WITH YOUR LEVEL OF OVERALL INSTALLATION WE WILL TRY TO CONTACT YOU TO OFFER A PLACE ON THE LIST.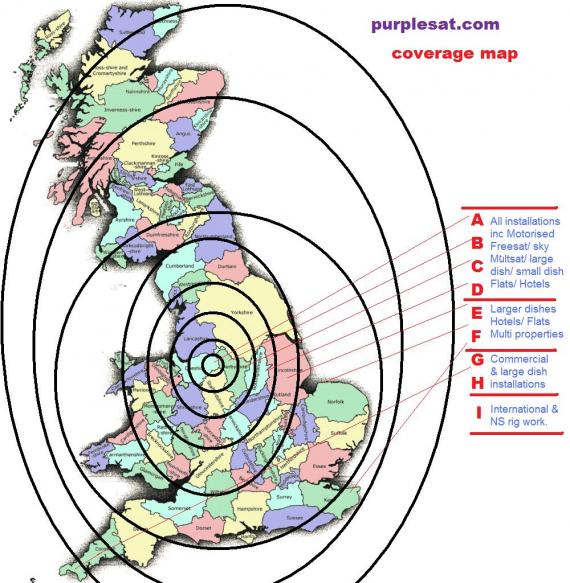 Contact purplesat.com for any queries regarding satellite or aerial & HD/3D installations. 

TEL: 07931 846757 
International
TEL: 00 44 1625 615379