26e & 7w RECEPTION REPORTS IN THE UK & MAPPED FOOTPRINTS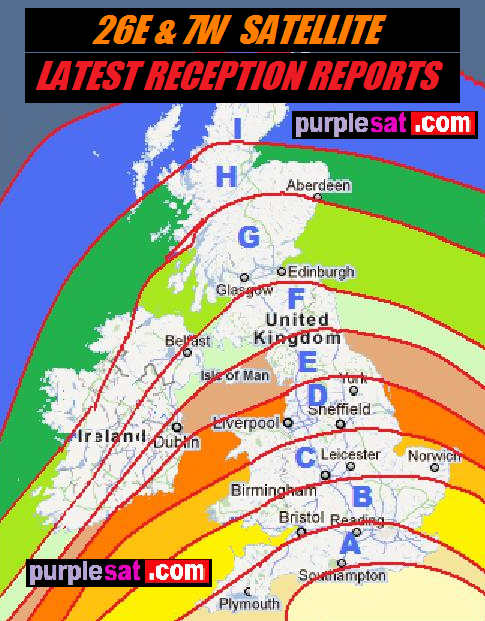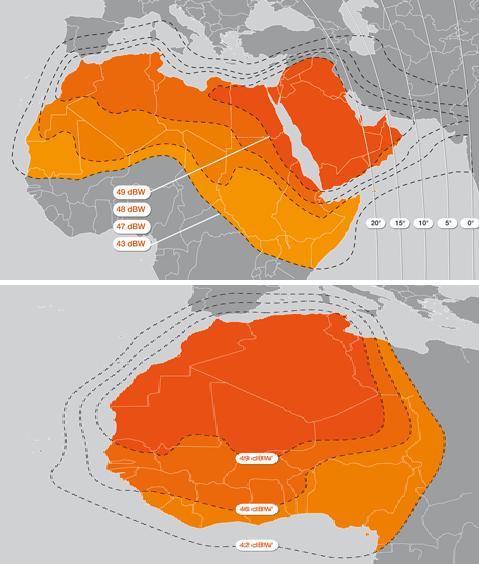 UK RECEPTION REPORTS                                                   
Minimum dish sizes (on area) for UK reception of Eutelsat 7 West A - / Nilesat 104
**formerly AB7- Atlantic Bird 7 & leased Tps of Nilesat 104 @ 7.3w ** All dish sizes are the area measure or W+H / 2  & exclude rim.

< 70cm min.... England South Coast East side.  
A 70-75cm  
B = 76-80cm 
C =81-85cm  (68cm verified 'lock level' reception on best TP only).
D = 86-1m 
E = 1m-1.2m  Revised (90cm verified 'lock level' reception)
Unconfirmed >>> 
F = 1-2.1.5m ... est
G = 1.5-1.8m ...est
H = 1.8-2.4m.. est 
I =   2.4m+ .. est

7.3w Eutelsat 7 West A[formerly AB7 & the leased TPs of Nilesat 104-107]  These dish sizes are minimum & should give reception most of the time but make no concession for bad weather or local interference margins & one should calculate a lager size if a higher margin is required. Dish sizes are based on surface area so width + height / 2 & not the offset measure or based on any manufacturer's or reseller's sizes or model numbers. These figures are also based quality BCS Satellite Engineering or Purplesat installations or equally quality installations. Any poor products &/or poor installation practices will alter these figures. Figures do not include all beams/  channels. Channels vary in power- these figures are based on the weaker but popular channels [movies & sport]..  DVB-S2 / beIN SPORTS HD channels & OSN channels require c. 20%-30% larger for the same lock level.
7w Nilesat 102/ 101 retired 
Eutelsat 8 West C -  MINIMUM 1.8M-2.4M



EUTELSAT 8 WEST C
< 1.8m min....  -------------------------  2.4M EST'
A = 1.8m ..--------------------------------  2.4M EST'
B = 2.4M - 3M .------------------------   3.4M EST'
C = 3.6M -4M....... EST'
D = 
E =  
F = 
G = 
H =  
I = 
Nilesat 201 
2m minimum ** est' 
A =2m-3m **
B = 2.2m- 4m
C = 2.4m- 4m++ (2.4m confirmed in Birmingham with some margin)
D =  3m- 5m est 
E =  
F = 
G =  
H =  
I =  
26e/ Badr4 dish sizes are generally a % smaller on area than Eutelsat 7 West A @ 7.3w - however- in England & Wales on smaller dish size areas it then requires the narrower beam width of the larger dish due to the close by powerful 28.2e UK Sky/Freesat services, therefore the smallest size** may need to be adjusted up to 7.3w figures below 80cm for this reason- in Scotland the strength of 28.2/5e is actually generally weaker & so the larger Sky dish (zone 2/ 64cm) is used & so the bleed over from 28.2/5e is lessoned so although the signal on BADR4 is lower the lower bleed effect helps with the beam width issue.( 7w does have 2 satellites either side [5w & 8w] that are strong in the UK but far less channels so their noise image on 7w & 7.3w is different & more selected). 

Different transponers vary due to their own footprint characteristics and the stength of nearby frequencies on 28.2/5e & whether they are on a north Europe or south Europe beam. There are also diffferent beams on BADR4 - the BSS beam is the stronger up through the UK - next is the FSS beam which falls away a little more than the BSS beam. The MBC beam is depicted by Arabsat as having a very tight MENA footprint but we think it is similar to the BSS footprint but does have very strong interference from 28.2/5e on that frequency so does require either a narrower beam width of a larger dish &/or moving the azimuth slightly further to the west to optimise. There are skew & el issues with 28.2/5e v 26e. 

68cm minimum ** BSS BEAM .... (in brackets) = Arabsat figures = clear skys - rain margin
A =75cm ** (90cm-1.2m)
B = 78cm **(90cm-1.2m)
C =80cm     (90cm-1.2m)
D = 83cm    (90cm-1.2m)
E = 85cm    (90cm-1.2m)
F = 88cm  (90cm-1.2m)
G = 90cm  (90cm-1.2m)
H = 1m  (1.2m-1.6m)
I = 1.2-1.5m (1.2m-1.6m)
(NB: Arabsat's figures are regions A to G= 90cm (1.2m) H-I= 1.2 (1.6m) (clear sky)/ (rain margin)- we usually beat all of their figures by a large margin all over the UK). These are in general for the BSS beam & MBC frequency- the FSS beam has a higher drop off going north. 

BADR 5 reception reports in UK
1.8m minimum ** est' 
A =1.8 -2m** est
B = 2m- 3.6m est
C = 2.4m -4.5m (2.4m confirmed)
unconfirmed..


D = 5M+ est'
E = 
F = 
G = 
H = 
I = 
BADR 6 
1.8m minimum ** est' 
A =1.8 -2.4m** confirmed
B = 2m - 3.6m confirmed
C = 2.4m -4.5m  (2.4m confirmed with 10-15% margin)
unconfirmed..
D = 5M+ est'
E = 
F = 
G = 
H = 
I = 
IMPORTANT NOTES About DIFFERING BREAK UP LEVELS ON DVB-S -QPSK  DVB-S2-8PSK/- most HD etc..   1/2 2/3 3/4 & 5/6 FECs etc.. & daily sun effect signal cycles. 

These figures are for good installations in average interference areas & average fringe EIRP for SD/ DVB-S QPSK reception with SR of 27500 & 3/4 FEC- areas can differ on interference either with interference quiet rural, coastal locations or interference noisy large area [city &/or industrial influence] locations & signal cold spots & hot spots of fringe reception.
In general figures are for DVB-S/ QPSK- FEC 3/4 & Symbol rate of 27500 ....   allow 10% larger surface area for FEC 5/6 & 10% smaller for 2/3 FEC & 30% larger for 8PSK  on DVB-S2. Some HD on DVB-S can be received with 20% smaller/ some 8PSK require even larger even though the signal looks similar - very high or very low symbol rates can also add another variable...  in the above case it's higher (& lower) break up levels we are describing & not signal or quality levels so if a dvb-s channels @ 3/4 fec 27500 st qpsk breaks up at 50% on your receiver - an 8psk of the same strength may actually break up at 60%.



DIFFERING SIGNAL BREAK UP LEVELS! IIIIIIII
GENERAL GUIDES BASED ON A BASIC STB'S QUALITY METER X BREAK UP THRESHOLDS
*************************************
                                   BREAK UP LEVEL >>     0%     25%     50%    75%      100%
-------------------------------------------------------------------------------------------------------------------------------------------------------------
DVB-S QPSK X/X FEC  SYMBOL RATE .
DVB-S QPSK 1/2 FEC 27500 SR = 36%           IIIIIIIIIIIIIIIIIIIIIIIIIIIIIIIIIIIIIIIIIIIIIIIIIIIII
DVB-S QPSK 3/5 FEC 27500 SR = 45%           IIIIIIIIIIIIIIIIIIIIIIIIIIIIIIIIIIIIIIIIIIIIIIIIIIIII
DVB-S QPSK 2/3 FEC 27500 SR = 50%           IIIIIIIIIIIIIIIIIIIIIIIIIIIIIIIIIIIIIIIIIIIIIIIIIIIII
DVB-S QPSK 3/4 FEC 27500 SR = 50%           IIIIIIIIIIIIIIIIIIIIIIIIIIIIIIIIIIIIIIIIIIIIIIIIIIIII
DVB-S QPSK 5/6 FEC 27500 SR = 54%           IIIIIIIIIIIIIIIIIIIIIIIIIIIIIIIIIIIIIIIIIIIIIIIIIIIII
DVB-S QPSK 6/7 FEC 27500 SR = 57%           IIIIIIIIIIIIIIIIIIIIIIIIIIIIIIIIIIIIIIIIIIIIIIIIIIIII
DVB-S QPSK 7/8 FEC 27500 SR = 59%           IIIIIIIIIIIIIIIIIIIIIIIIIIIIIIIIIIIIIIIIIIIIIIIIIIIII
DVB-S QPSK 8/9 FEC 27500 SR = 63%           IIIIIIIIIIIIIIIIIIIIIIIIIIIIIIIIIIIIIIIIIIIIIIIIIIIII
DVB-S QPSK 9/10 FEC 27500 SR =65%          IIIIIIIIIIIIIIIIIIIIIIIIIIIIIIIIIIIIIIIIIIIIIIIIIIIII

FOR DVB-S2/8PSK ALLOW 5-10-15% EXTRA TO THE BREAK UP FIGURES

SOME COMBINATION EXAMPLES ONLY - THERE ARE MANY OTHER COMBINATIONS & FACTORS INCLUDING noisy / busy satellites / TPs with transponders on the opposite pol' / symbol rates/ overall power/ cleaner or dirtier transmissions.

SEE ALSO STRONG CHANNELS LIST <<HERE>>