FREE SATELLITE TV SURVEY & QUOTE

IDENTIFYING YOUR PROPERTY IS IMPORTANT FOR YOUR FREE SURVEY!
We need to identify the exact property on Google Earth, the design & shape
the location of other properties / trees hills etc.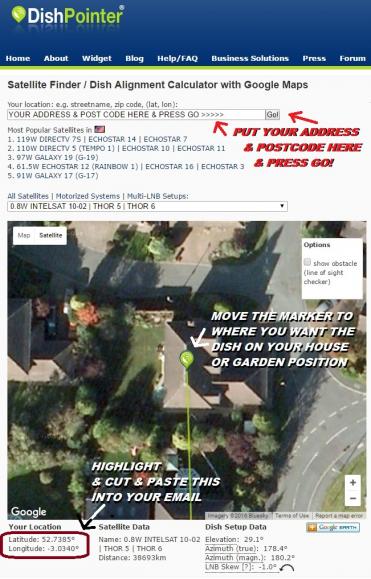 Help identify your property / house number or we may have to charge.

You can use this dishpointer app/which is tied to GOOGLE EARTH.

Input your address in the top line & press GO.


Move the marker to your house roof 


& copy & paste the longitude & latitude
in the bottom window under your location.


 





or text / call / whatsApp etc.
or use our free [UK] call back service


with the following details :


EMAIL SUBJECT : Satellite Installation


NAME:

ADDRESS:

POSTCODE:

LONGITUDE 

LATTITUDE
AS ABOVE: [don't worry if you can't do that]

PHONE NUMBER & EMAIL:

SYSTEM REQUIRED: 
(eg: motorised system/ with / without receiver/ Dish 
size required fixed dish/ Sky/ Freesat/ commercial use)


WHAT CHANNELS: 
(eg: Football/ Films/ Documentaries/ Family system/ Music/ Sports Feeds/ Adult/  
or specific languages / regions etc,)

If you have a property is not on Google Earth 
or street view 
please include photos of your property. 




{%contact%}