CAM s 
CONDITIONAL ACCESS MODULE CI CI+ 
& SOFTCAMS 
AND SUBSCIPTION CARDS
 USED FOR SUBSCRIPTION CHANNELS ON SATELLITE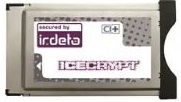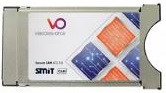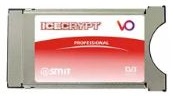 EXAMPLE CAMS - CONDITIONAL ACCESS MODULES

Most PAY/ subscription Tv services use pay subscription cards, about the same size as a credit/debit card & CAMs, either embedded [built into a receiver] or stand alone CAMs with a PCMCIA slot connector & a slot pfor the card.

Many embedded/ built in CAMS will do the work of a host of CAM formats/protocols such as our Technomate TM5402HD M3receivers so there's np need to also buy a seperate CAM, but some servoces may need a dedicated or you m,ay want 2 cards in the receriver at the same time- either case you want a CAM- possibly a dedicated CAM whicch inserts in the CAM slot & then you insert your card in that. Some dedicated CAMs may work better & can cover more formats themselves or ve dedicated to one format. 

Formats of encryptions/ various versions of the following:
 
VIACCESS 
SECA 
IREDETO 
NAGRAVISION 
ALPHACRYPT 
BETACRYPT 
CONAX 
CRYPTOWORKS 
NDS 
POWERVU 
SKYCRYPT 
XCRYPT 
DVCRYPT 
& many others

SOFTCAMS 

Softcams emulate CAMs by softwatre allowing far more versatility as the same SMART card slot can act as many CAM formats without the CAM being inserted - just the card.

This has also lead to people sharing cards round a house which has been deemed somewhat acceptable.

however...

UNNOFICIAL ACCESS TO ENCRYPTED CHANNELS 
Unfortunately this has lead to encryption systems being routinely hacked either with basic static keys [sets of numbers typically 16 or32 typed in by the individual]  or for those that are refreshed too quickly, connection to servers that input new keys every 10 seconds- typically called card share with a large following & hidden industry of unnoficial providers & most satellite receivers having alternate software allowing this along with other encryption access such as BISS/ Director etc.. used for feeds.


CI+ v CI 

also watch out for CI+, a newer format that is backwardly compatible witrh CI but certain servoces will only work in.


CARD PAIRED TO BOXES SUBSCRIPTION SYSTEMS 
There are a few subscriptions systems that are cards paired to boxes & will not work with any cam or softcam but many software writers / hackers spend time making this not so, & so this is something that is on going- a cat & mouse game between the broadcasters, hardware manufacturers & the hacking community.

purplesat do not get involved in unnoficial means or give advice - we install satellite systems.



Motorised Satellite Systems give people easy/simple access in their homes or for business use to 1000s & 1000s of live TV channels from the UK, Europe & all around the World.

CLICK HERE FOR



OR HERE


TO GO DIRECT TO THE MOTORISED SATELLITE PACK PAGES


 has one of best reputations around the UK for Motorised & Fixed Dish Satellite Installations large & small, Very Strong Satellite Bracket design & Custom Satellite Motors for household & commercial use...
but don't take our word for it- see what our customers say on the Testimonials tab.
ALWAYS GET REFERENCES & GENUINE EXAMPLES OF WORK.
(We have found other companies using purplesat installation photos to advertise their services & our bracket designs being copied, hence we are adding copyright purplesat to all installation photos - all our photos are our installations not stock photos or other companies [except those on the rougues gallery]).  
purplesat.com is a safe secure website using modern https secure server / MS/avg/Mcafee & high server level security.