HOW TO SET UP A POLAR MOUNT & 36v ACTUATOR 
& 36v H-H MOTORISED SATELITE SYSTEMS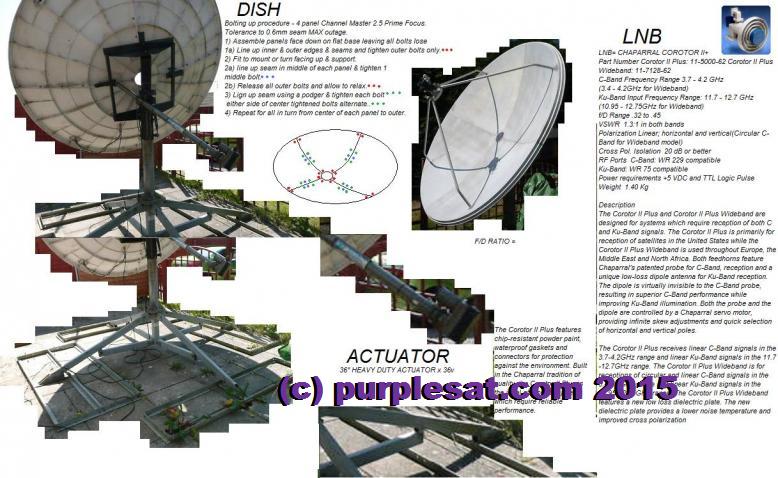 Ideally, you should have some mid to heavy engineering & construction experience/ qualifications, demonstrate hands on ability & thinking, as well as electrical & RF Engineering experience & understanding & demonstrate a good practical understanding of all aspects & be a committed / dedicated individual.
Except for the smallest of installations, this is very much a heavy condstruction process calling upon good engineer skills & reasoning on & off site for both the structural & RF aspects. Installations should be deemed to be of a high standard & for longevity and brought in at cost effective manor for clients, being able to choose good products, fit for use & in today's market, if you want to use this in your career, it can help you improve earnings.

 
TRAINING COURSES.
SURVEY

PRE SITE [

remote] SURVEY

*
ON SITE 

SURVEY

*

MOST IDEAL LOCATION / LINE OF SIGHT/ INTERFERENCE/ SUBSTRATE INSPECTION

RAMS / SAFETY ASSESSMENT 

BEFORE, DURING, CLEARING AWAY & 

LONG TERM

 

CHOOSING THE FEED/ REFLECTOR

PREDICTED EIRP / SIGNAL LEVELS
ACTUAL KNOWN SIGNAL LEVELS / FOOTPRINT FROM KNOWN DATA
 

CHOOSING MOUNTINGS

WIND LOADING CONSIDERATION 

WIND SPEED X 

WIND PRESSURE

 LOCALISED CONSIDERATIONS

COASTAL OR CHEMICAL / HARSH ENVIRONMENTS

WALL MOUNTINGS [POLE MOUNTS/ A FRAMES / L BRACKETS ..ETC]

FLAT ROOF MOUNTING

S & PROTECTION OF ROOF MATERIAL

GROUND MOUNTINGS HARD SURFACE

GROUND MOUNTINGS 

SOFT SOIL*

*POURING CONCRETE OR SLABS/ RIBAR / SETTING TIMES

 
SINGLE AXIS INSTALLATION

H-H, POLARMOUNT or MOTORISED AZEL

SINGLE AXIS OR TWIN AXIS

INCLINED ORBIT TRACKING &/OR...

SWITCHING FROM Ku C Ka / LINEAR / CIRCULAR [INCLINED]

36V 3A OR 5A / V BOX G BOX 19" RACK/ OTHER CONTROLLERS

 

DISH SIZES

 [GENERAL CHOICES]

64CM 90CM 1M 1.1M 1.2M 1.3M 1.5M 1.8M 2M 2.4M 

3M 3.2M 3.4M 3.6M 3.7M 3.8M 4M 5M 6M

REFLECTOR MATERIAL

INTELSAT/ EUTELSAT TYPE APPROVED

 

DISH TYPE

PRIME FOCUS 

OFFSET

OFFSET [INVERTED]

 GREGORIAN 

 CASSEGRAIN

SHROUDED  

 

FEEDS

 

LNBs LNBFs LNAs etc.

OFFSET & PRIME FOCUS FEEDHORNS

Ku BAND LNB/F 

Ku BAND C120 LNBs & C120 FEEDHORNS

C BAND ON PRIME FOCUS or OFFSET DISH

Ka BAND / Ka bands/ 

DRO UNIVERSAL LNB DRO LOW TOL LNB PLL PLL REMOTE REFERENCE

SHORT BAND SINGLE POLE DRO / PLL / PLL EXT REF.

LINEAR / CIRCULAR / SUB BANDS

POLARIZOR- MECHANICAL / MAGNETIC

 PRODELIN C120 ADAPTER FEEDHORN FITTINGS

 

BUCs [transmitters]

POWER/ SAFETY/ COOLING EQUIPMENT

WAVEGUIDES

LNA/ BUC ISOLATORS

 

COAX / CONNECTORS

WF100 WF125 WF165 WF233

F X 2 BAR / 3 BAR COMPRESSION FITTINGS

 

INSTALLATION PROCESS

PREPERATION - EQUIPMENT

WORKING AT HEIGHT SPECIAL CONSIDERATIONS

SPECIAL PREPERATION FOR LIFTING IF REQUIRED

PREPERATION - SAFETY- PUBLIC- SELF- PROPERTY [PROCESS]

SAFE WORKING PRACTICES & 

SAFETY WORKWEAR

 

INSTALLATION OF CLIMBING EQUIPMENT IF REQUIRED

INSTALLATION OF PROPERTY PROTECTION IF REQUIRED

INSTALLATION OF ROOF PROTECTOR [EG FOR NPRMs]

INSTALLATION OF MOUNTINGS TO STRAIN / TORQUE LEVELS

INSTALLATION OF MOTOR OR MOTOR PARTS 

INSTALLATION OF REFLECTOR OR REFLECTOR PARTS

INSTALLATION OF FEED & FEED SUPPORT

WIRING TO FEED [READY FOR ALIGNMENT]

 

KEEP ALL SITE EQUPMENT SAFE FOR THE PUBLIC AT ALL TIMES REMINDER POINT

 

ALIGNMENT PROCESSES

CROSS CHECK ALL ASPECTS OF INSTALLATION BEFORE ALIGNMENT

COMENCE ALIGNMENT PROCESSES 

FOR ACCURATE / SOLID ALIGNMENT

RE- CHECK ALL POINTS OF INSTALLATION AFTER FINAL ALIGNMENT

 

CABLING UP 

AVOIDING TRACING/ INDUCTION & NOISE AREAS

& ALLOWING FOR MOTOR MOVEMENT AT REFLECTON+

CLEARANCE FOR WIND

TESTING AT THE STB

FINAL STB SETTINGS FOR CLIENT

.

CLEANING UP

SAFE REMOVAL OF ALL INSTALLATION EQUIPMENT 

CLEAR AN DEBRIS

MAINTAIN SAFETY CONCIOUSNESS 'THROUGHOUT'

 
CONTACT PURPLESAT / 

BCS SATELLITE ENGINEERING FOR THIS & OTHER COURSE DETAILS

 AND JOB APPLICATIONS FOR ANY VACANCIES.

TEL: 07931 846757 

International TEL: 00 44 1625 615379