USING YOUR *FOXSAT HD/HDR* ON OTHER SATELLITES & MOTORS 
CLICK>> HERE <FOXSAT !! 
YOUR FOXSAT CAN RECEIVE FROM UP TO 60 SATELLITES & 1000s OF CHANNELS ! 

 *THE FOXSAT HIDDEN MENUS*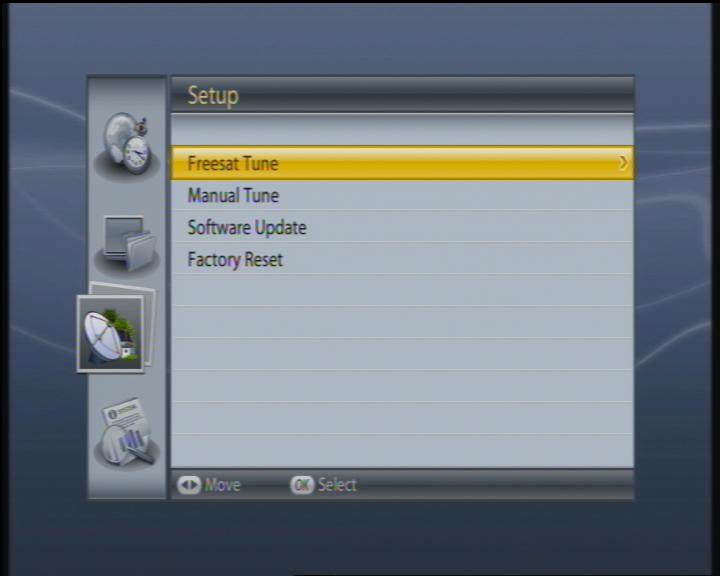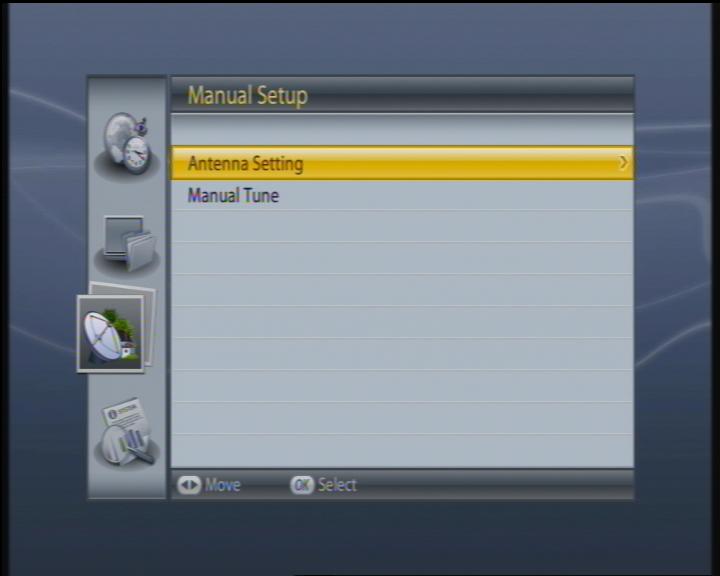 NORMAL MENU                HIDDEN MENU! 
FOR MOTORISED, MULTI LNB & SINGLE FOREIGN SATELLITES! 
Humax Foxsat-HDr manual tune  &  Humax Foxsat-HD manual tune.
The HUMAX Freesat Foxsat HD & HDR have hidden menus to access other satellites on a fixed dish pointed at another satellite, controldiseqc switches to view up to 4 satellites on one or several dishes, all pointing to different satellites with 1000s of channels (one can be Freesat) orcontrol motors to access up to 40 satellites and 1000s of free SD & HD channels from around Europe & around the world & still use the main Freesat features on Freesat at any time & with one of, if not the most sensitive receivers there are allowing access to some of the weakest channels & hidden broadcaster feeds.

These options aren't detailed in the manual so we have detailed some of them here as these questions are asked so many times.

To use with a motorised installation - these proceedures require the Foxsat  HD or HDr to be connected to a correctly installed motorised satellite system.




 ACCESS TO THE HIDDEN MENU 
 
press..MENU......... press down arrow to ..SETUP....... press RIGHT BUTTON to enter SETUP menu ............

then press the coloured buttons in this order ...  

R G Y B then G Y B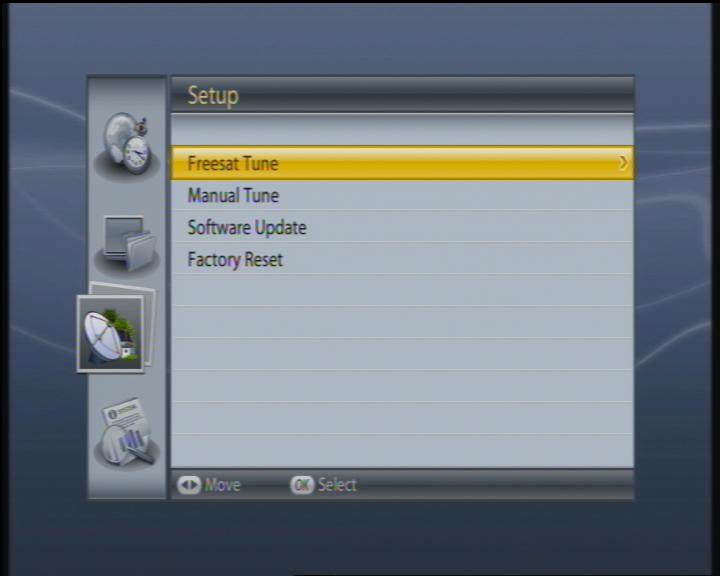 and the main  hidden menu appears =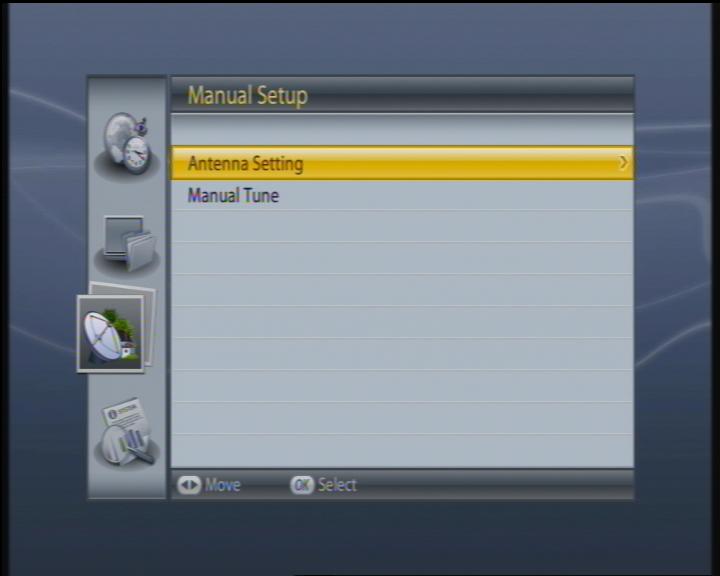 ANTENNA SETTING
MANUAL TUNE
press OK on ANTENNA SETTING ... & it changes to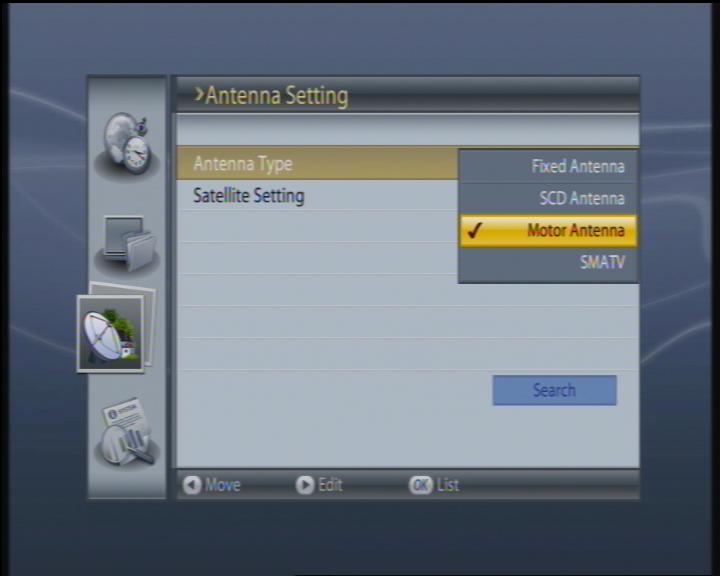 ANTENNA TYPE
SATELLITE SETTING
... on ANTENNA TYPE use right button to step through the options.....   

FIXED ANTENNA... 
SCD ANTENNA... 
 ...SMAT
so press OK on MOTOR ANTENNA ...
 (you do this once that's it)
 now go down to SATELLITE SETTING and press OK
it changes to SETTING SATELLITE MENU with 4 options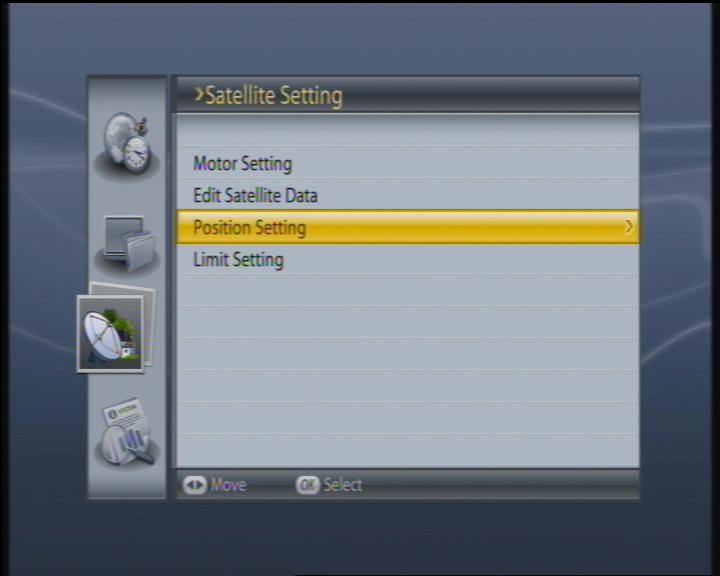 MOTOR SETTING
EDIT SATELLITE DATA
POSITION SETTING
LIMIT SETTING
press OK on MOTOR SETTING... = 5 options and go down to MOTOR TYPE and select USALS (or DISEQC 1.2 if preferred) y pressing the right button & OK to select it. 

Now insert your longitude & latitude  & press  OK = done.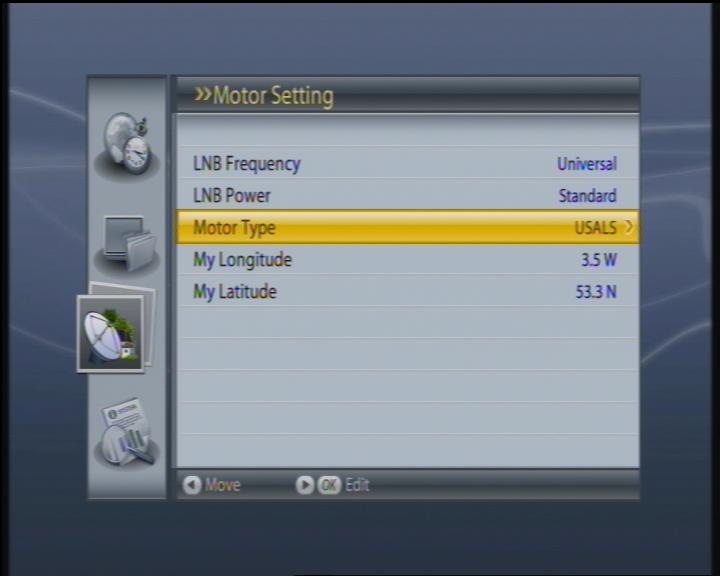 Now you can start to enable & scan/ setup each satellite & your motor if it's a new installation.

(The USALS on the Foxsat requires an accurate installation as it lacks some editing of USALS satellite positions- to get more motor control & editing facilities you should consider using the less automated diseqc 1.2 option which requires you to find & store the position of each satellite- a process that becomes quite easy once you have got started- SEE DISEQC 1.2 MOTOR CONTROL picture below....).




 ENABLE A SATELLITE 

Use the BACK BUTTON & choose EDIT SATELLITE DATA,  Choose a satellite using the right button (start with Thor 1w) & clickENABLE 


Use the BACK BUTTON to go back to MANUAL TUNE menu and enter that option to manually tune each satellite

If your motorised installation is installed then this satellite should scan and download all the FREE channels from the stored transponder list with FTA (FREE) set.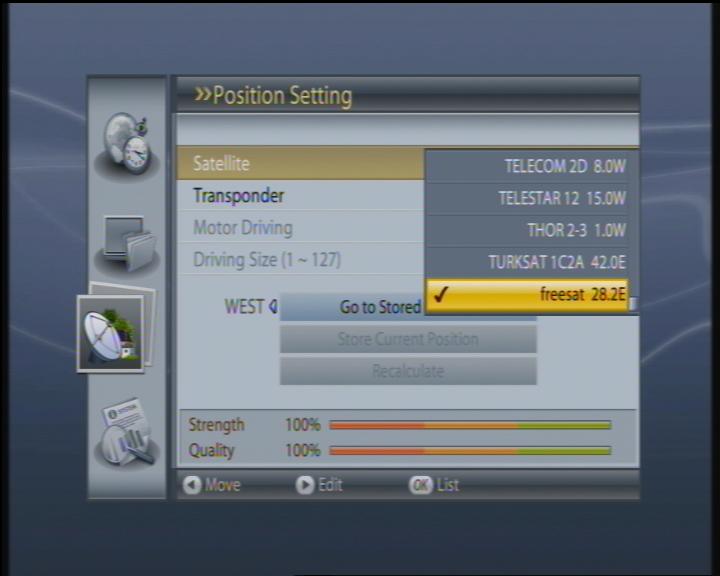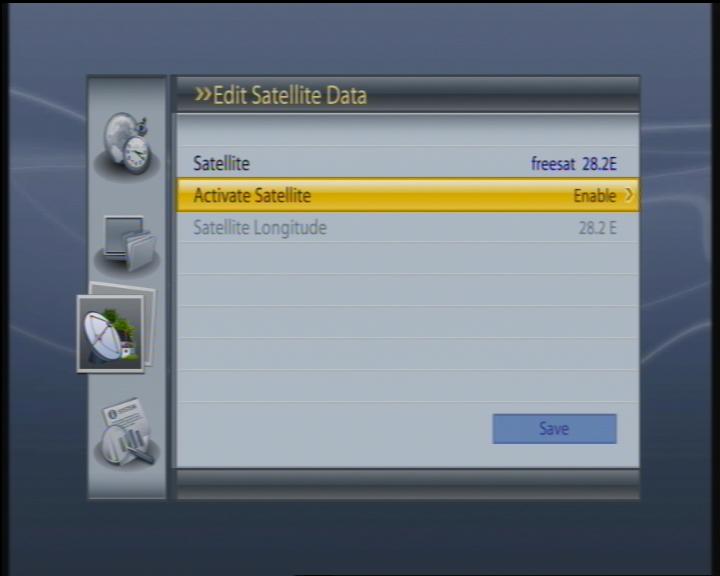 Go down the list and choose ...

Satellite .... THOR 2-3 1.0W (or 28.2 east ASTRA 2 as in example photos!)
Transponder .... ALL>
Network Search.... Enable
Scrambled Type .... FTA
Channel Type ........All

Then select SEARCH & press OK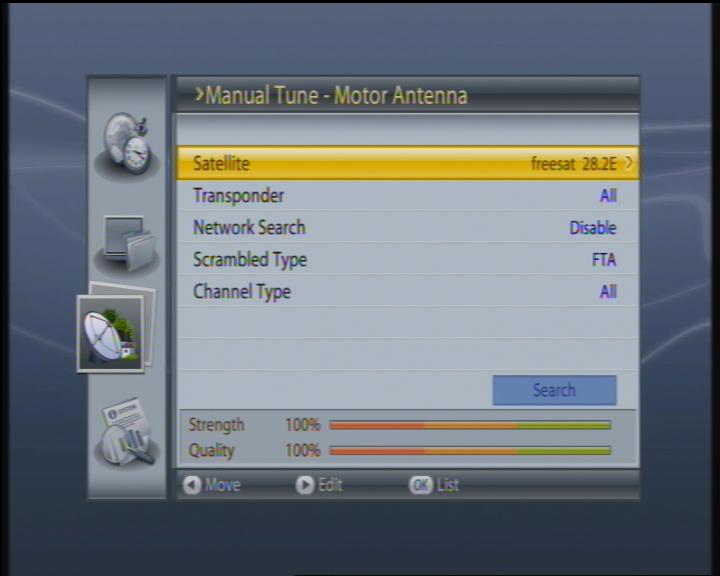 That should now have installed all FREE channels on 1w Thor (or 28e) .. and you should test them by going out of the menu (press MENU or BACK).

Repeat this section for all satellites required.. in the UK..


If you explore all the options available you will find add or edit transponders including SD HD DVBS2 etc.. Symbol rates all FECsettings to add new transponders and channels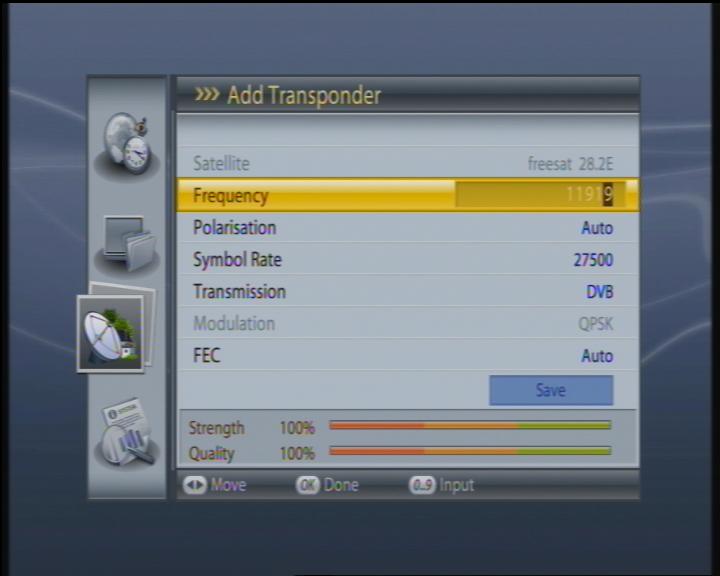 (see www.lyngsat.com EAST  WEST to find update channels) 


DISEQC 1.2 MOTOR CONTROL SCREEN (If you used DISEQC 1.2 rather than USALS)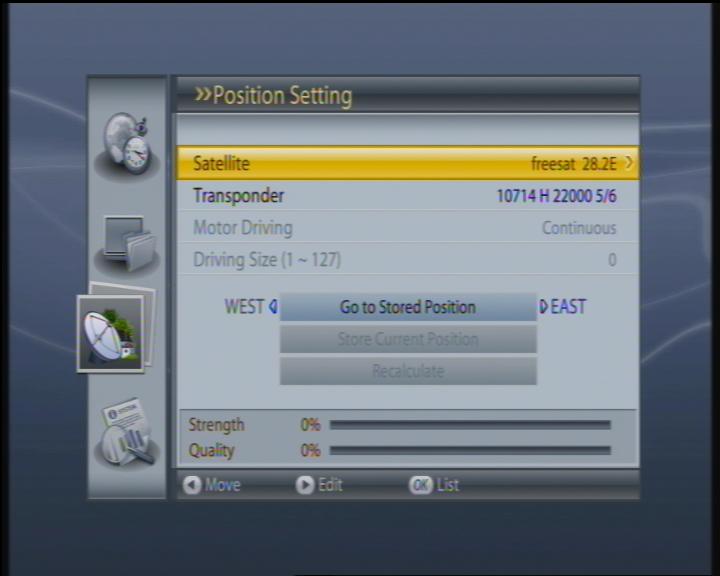 Once paired up to a correctly installed motorised satellite system, the Foxsat HD & HDr becomes quite a formidable FREE TO AIR motorised satellite system offering all the top features of the UK's FREESAT service in HD with all the digital teletext news & weather services & 8 day electronic program guide with in-built record options on the HDr for the FREESAT channels including recording one channel while watching another in FREESAT mode and at a flick of switch change to non freesat mode to travel the satellites on the motorised side with one of the most [if not 'the' most] sensitive receivers on the market to help get the weaker satellites & receive HD & SD ON DVBS2 streams.... and at any time flicking back to FREESAT mode will automatically drive the motorised dish back to FREESAT and all at very high picture quality.

SAMPLE SCREEN SHOTS IN USE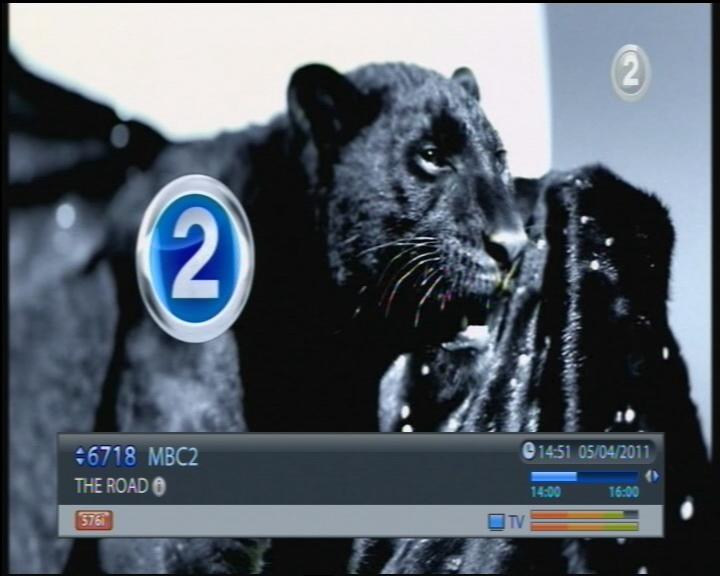 A FOXSAT HD ON ONE OF ARABSAT 26e's (BADR4) 24/7 MOVIE CHANNELS .. MBC2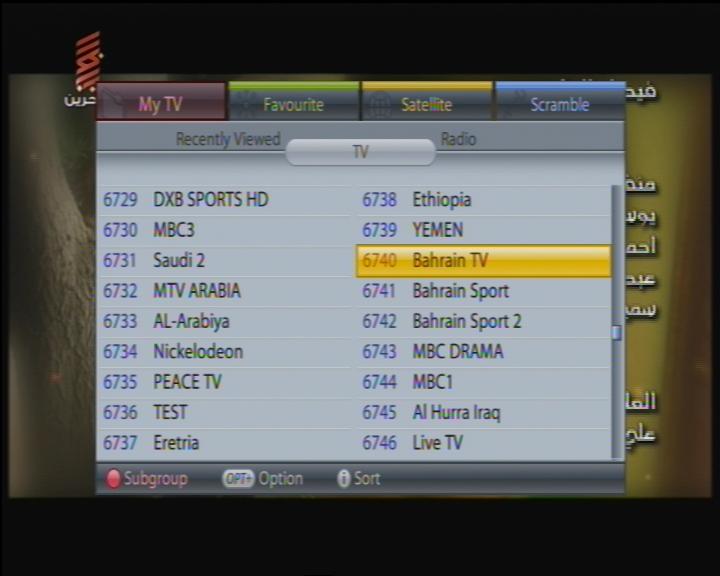 EXAMPLE CHANNEL LIST ON ARABSAT @ 26e (BADR4)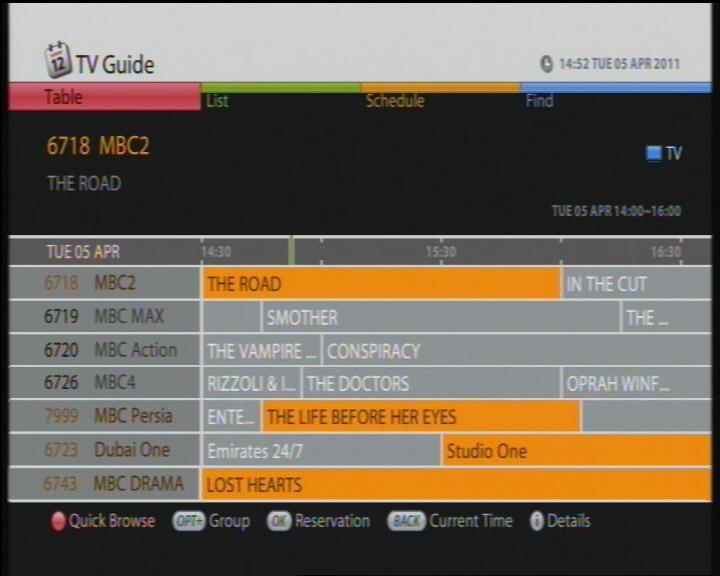 EXAMPLE 7 DAY EPG ON ARABSAT @26e (BADR4)- ALL IN ENGLISH WITH ENGLISH INFO PAGE.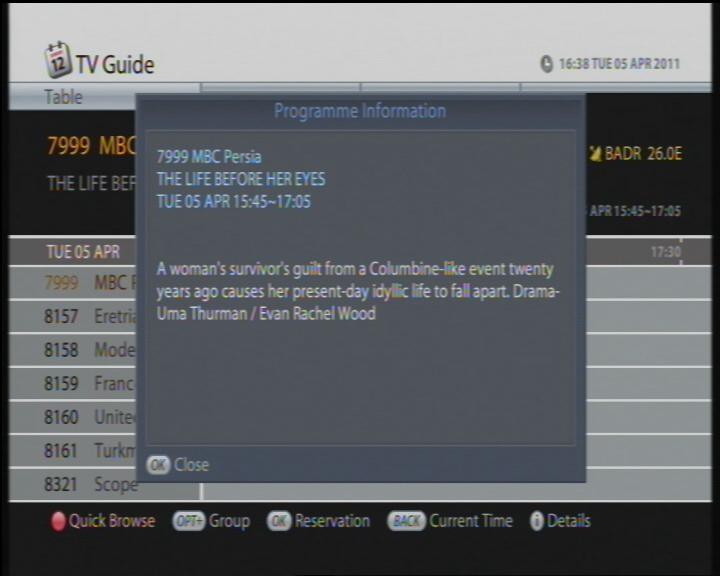 EXAMPLE EPG & INFO PAGE ON ARABSAT @ 26e (BADR4).... ALL IN ENGLISH

FREESAT RECEIVERS THAT ALSO CAN RECEIVE FROM OTHER SATELLITES 

FOXSAT HD & HDR in non Freesat mode these can recieve 40 plus satellites/ control motorised satellite in USALS or Diseqc 1.2 & control Diseqc 1.0 & 1.1 switches for multi LNB setups or single satellite